In this section you'll find examples of the types of energy efficiency and renewable energy projects DEM is working on.
Click on the project name to jump to the project description and photos.
Comprehensive Energy Efficiency Retrofit at DSNY's 26th Street Repair Garage
Rikers Island Laundry Facility Upgrade
Comprehensive Energy Upgrades at St. Mary's Recreation Facility
Solar PV, Cool Roof and Lighting Upgrade at 114th Precinct
Lighting Upgrade at Staten Island Sanitation Garages 1 & 2
City adds 70 Electric Vehicles to fleet
Ice Storage at NYPD Facility
Lighting Upgrade at Staten Island Ferry Maintenance Facility
Upgrade of lighting system at FDNY's Fleet Services Shop
Energy upgrades at 44 Beaver Street
Brooklyn Central Library Audit
Solar Array at New York Hall of Science
Retrofits at 125 Worth Street
Energy conservation at NYPD Forensic Lab
Rapid roll-up doors at DSNY's 26th Street Repair Garage
Solar Thermal at FDNY
Fuel cell at the Bronx Zoo
Comprehensive Energy Efficiency Retrofit at DSNY's 26th Street Repair Garage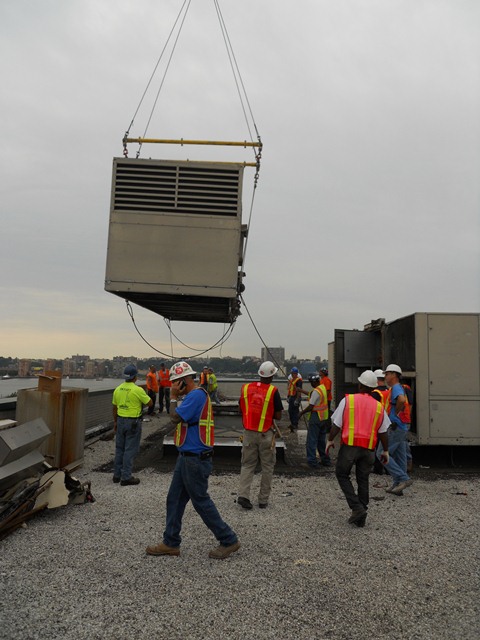 DCAS Energy Management, in partnership with the Department of Sanitation (DSNY) and NYPA, recently completed the third phase of a comprehensive energy efficiency retrofit project at the 26th Street Repair Garage in Manhattan. Major equipment upgrades included the installation of 14 new rooftop HVAC units and a new Building Management System (BMS). The new HVAC units replaced 14 outdated and inefficient package rooftop air handling units that were installed in the early 1990s. The new HVAC units are energy efficient and utilize variable speed fans which allow the system to scale down based on real time building load. In addition to the new units, a new BMS was installed to improve the functionality of the pneumatic control system.The BMS will control the heating and cooling of the facility and use optimization schedules and setbacks to curtail energy consumption. This phase of the project was primarily funded through the American Recovery and Reinvestment Act of 2009 (ARRA).
The first two phases of the project inclu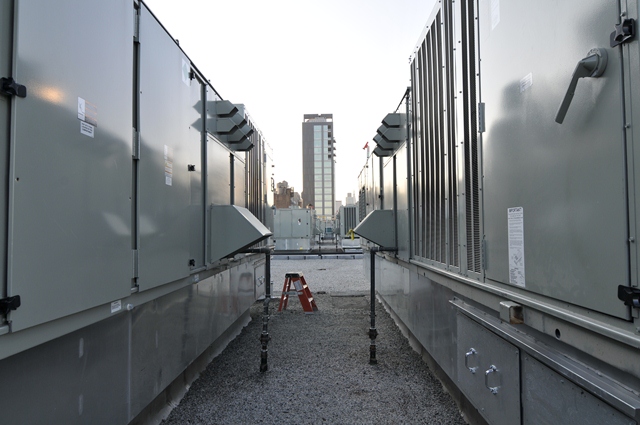 ded the retrofit of 1,567 light fixtures and the installation of rapid roll-up doors. You can read more and watch a brief video to see how the innovative rapid- roll-up doors save energy and time in the following case study.
DSNY uses the 205,000 square foot garage facility in Manhattan to preform major repairs and maintenance on a wide range of vehicles including garbage trucks, street sweepers, salt spreaders and sedans.The three phases of this comprehensive energy efficiency project have a total cost of $5.5 million and will result in $328,155 in annual energy savings, and will reduce greenhouse gas emissions by 1,365 metric tons per year.
Rikers Island Laundry Facility Upgrade
DCAS Energy Management and the Department of Corrections recently completed a major energy efficiency upgrade to the laundry facility at Rikers Island, New York City's primary correctional facility. The laundry facility processes about 70,000 pounds of laundry per week for the correctional facility as well as for the Departments of Parks & Recreation and Homeless Services. The retrofit project replaced outdated laundry equipment that dated back to the early 1960s with state-of-the-art, high efficiency washers, dryers, and ironers.
Specifically, the project involved the installation of an automated tunnel washer and dryer system capable of washing 1500 pounds per day, high volume air handling unit controls, upgraded lighting, and the replacement of three industrial-sized irons, a lint collection system, exhaust fans, and steam and condensate piping insulation. Pictured below are a before and after picture of the old and new washing machines.
| | |
| --- | --- |
| | |
| Before | After |
While the facility was under construction to implement these upgrades, the laundry facility remained fully-functioning. Now that the equipment is installed and the machines are up and running, the City estimates that the project will reduce annual energy costs by $750,000 and greenhouse gas (GHG) emissions by 940 metric tons annually. This project was funded in part by Energy Efficiency Conservation Block Grant (EECBG) funding through the federal American Recovery & Reinvestment Act (ARRA).
Comprehensive Energy Upgrades at St. Mary's Recreation Facility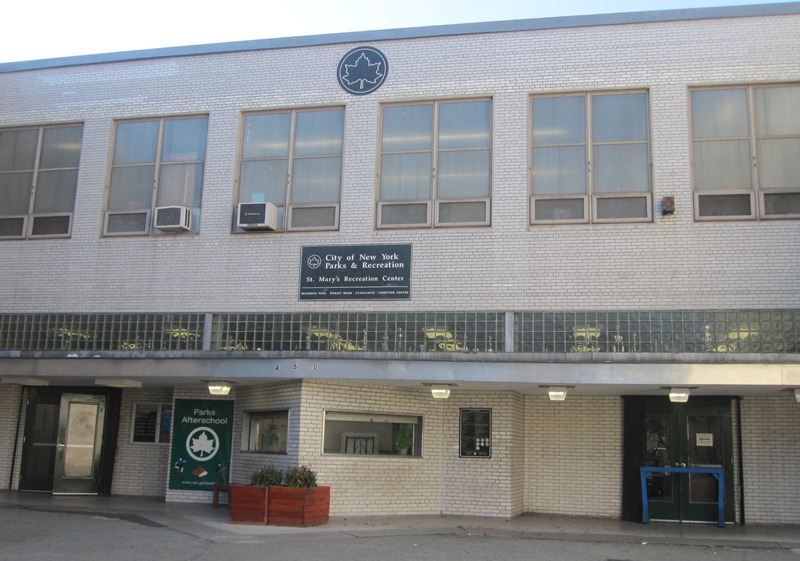 St. Mary's Recreation Center, the City's first full-service, indoor recreation center, is getting a comprehensive energy efficiency upgrade as part of the 30x17 effort to reduce municipal greenhouse gas emissions. Located in St. Mary's Park in the Bronx, this three-story Recreation Center houses a fitness center, basketball court, indoor pool, dance studio, and computer lab. The facility recently celebrated its 60th anniversary!
The Center was one of the first City sites to receive a comprehensive energy audit. Following the audit recommendations, metal halide lighting fixtures in the gym and pool areas have been replaced by highly energy efficient T-5 HO (high output) fixtures. The fixtures installed in the pool area are specifically designed to be heat and vapor resistant for the unique indoor pool environment. Throughout the entire Center, new lighting fixtures are equipped with photocell and motion sensors so that they automatically turn off when there is sufficient daylight or when the facility is not in use.
Other energy efficiency measures in progress include the replacement of all of the facility's steam traps (approximately 50), three new energy efficient pool motors (pictured), the installation of a pool cover to reduce evaporation and therefore water heating demands, and the installation of a vestibule at one of the Center's front doors to reduce the loss of conditioned air to the building's exterior.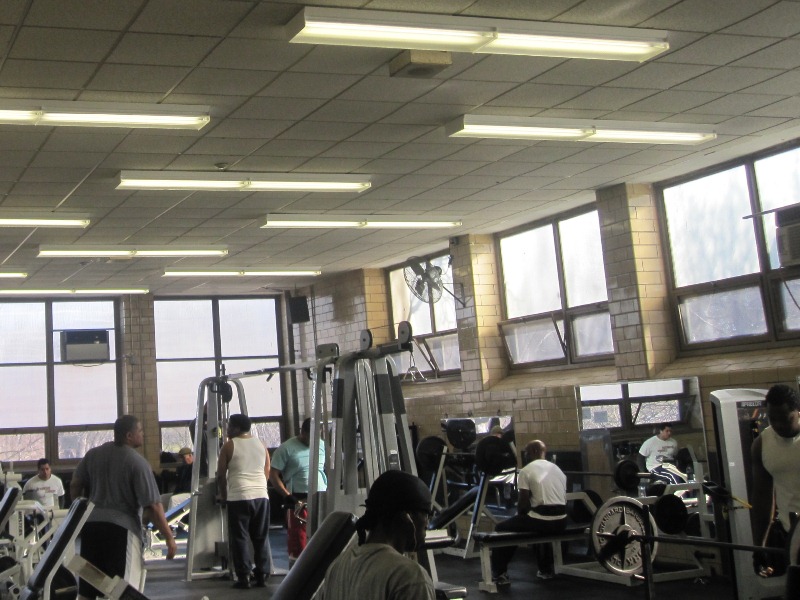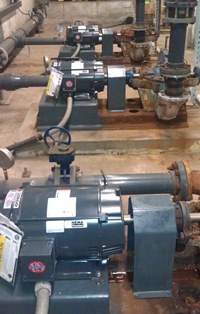 The second phase of the project will address the building's hot water needs. The installation of a solar thermal system on the roof will supply the facility's pool and domestic hot water needs, and a condensing summer boiler will allow Center staff to shut down the building's main boiler while continuing to use it as back-up on cloudy days when the solar thermal system isn't meeting demand for hot water.
When complete, this package of energy conservation measures is expected to reduce energy costs by $98,000 and greenhouse gas (GHG) emissions by 278 metric tons annually.
Solar PV, Cool Roof and Lighting Upgrade at 114th Precinct
In partnership with NYPD, DCAS Energy Management has led three complementary GHG-reduction efforts at the 114th precinct in Astoria, Queens. This month DCAS will kick off installation of a thirty seven (37) kilowatt solar photovoltaic (PV) system on the roof of the 114th precinct. This PV system is one of eight rooftop solar PV projects funded by a federal stimulus grant program administrated by the New York State Energy Research and Development Authority. The PV system assembly includes several small inverters, a data acquisition system (DAS) with web-based monitoring software, a ballasted fixed angle racking system, and approximately 152 PV panels. The PV system will provide electricity to the precinct's main electrical distribution panel and will save the City an estimated $20,000 in avoided electricity costs each year.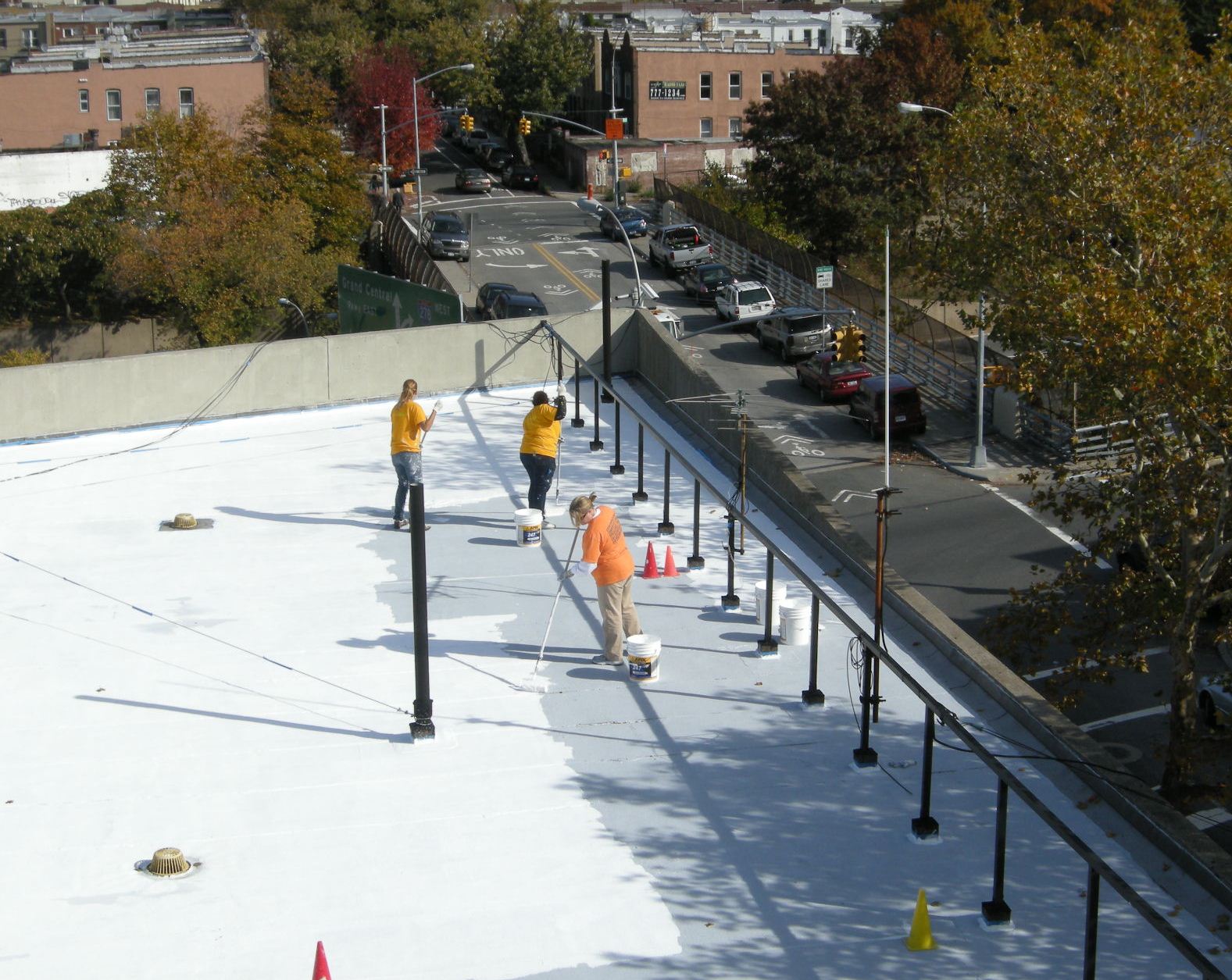 In 2009, the precinct's roof became one of the City's first Cool Roofs. Cool or white roof coating helps lower the ambient temperature of the roof, which reduces cooling loads and will help the new PV system perform even more efficiently in the hot summer months.
The third energy-saving project is a comprehensive lighting system upgrade that will improve the quality and efficiency of lighting in locker rooms, hallways, offices, stairways, bathrooms, cells, mechanical rooms, a gym, storage spaces, the garage, and on the exterior of the building. The lighting project will cost $182,000 and will reduce the precinct's electricity bill by $24,000 annually. The more efficient lighting will reduce annual energy use by 181,000 kwh and GHG emissions by 64 metric tons annually.
Together, these three measures will save the City $44,000 a year and reduce GHG emissions by 81 metric tons annually.
Lighting Upgrade at Staten Island Sanitation Garages 1 & 2
DCAS Energy Management recently completed lighting upgrades at two Department of Sanitation garages on Staten Island. These garages are used for repair and maintenance of garbage trucks, street sweepers, snow removal equipment, and other Sanitation vehicles. Staten Island 1 is 114,000 sf with a staff of 80, operating 24 hours a day, 6 days a week. Staten Island 2 is 80,000 sf with a staff of 135 people, operating 24 hours a day, 6 days a week. Both facilities operate 24-7 during snowstorms.
Inefficient T-12 lamps, using magnetic ballasts, were replaced at both facilities with energy efficient T-8 lamps with electronic ballasts and dual technology occupancy sensors throughout the garage, office, and hallway areas. High-output T-5 lamps were installed in mechanic areas providing brighter light for precise work and improved safety. Mechanics in both locations report that they are happy with the new lights and can notice that their work spaces are much brighter.
The lighting upgrade will reduce City energy costs by $81,386 annually, and will contribute to the City's greenhouse gas reduction goal by removing 265 metric tons of CO2e from the atmosphere. This represents a 37% decrease in GHG emissions from the two facilities.
City adds 70 Electric Vehicles to fleet
On July 12th, 2011 Mayor Bloomberg announced the addition of 70 new electric vehicles to the City's fleet, including 50 new "extended range" hybrid Chevrolet Volts, 10 fully electric Ford Transit Connect cargo vans, and 10 new fully electric Navi-star "E-star" utility trucks. The 70 new vehicles were purchased in part with grant funding from PlaNYC, the U.S. Department of Energy and the New York Power Authority. The City has the largest municipal electric vehicle fleet in the country, now totaling 430 electric vehicles. The new electric vehicles are expected to reduce greenhouse gas emissions by 75-100% compared to conventional vehicles and are an important component in reaching the City's 30x17 goal.
| | |
| --- | --- |
| | |
| Chevy Volt - NYPD | Ford Transit Connect - Sanitation |
NYPD has 20 of the City's 50 new Chevy Volts (pictured above left), which are electric/gasoline series hybrid sedans that use pure electric power for the first 45 miles. Once the battery is drained, a backup gasoline engine engages to charge the battery, extending the car's range to 340 miles. These cars are expected to be driven an average of 35 miles/day and will be recharged overnight.
The Transit Connects (pictured above right) are cargo vans that can travel from 60 to 80 miles on a single charge, depending on the weight of the cargo. The Transit Connects will be used by the Departments of Correction, Transportation, Sanitation, Fire and Citywide Administrative Services.
Also on July 12th, the City and Nissan co-hosted a free screening of "Revenge of the Electric Car" and an electric vehicle showcase for the public in Central Park. To increase public awareness about electric vehicles, the City has developed a new website encouraging residents to Drive Electric NYC. For the full press release, click here.
DCAS Energy Management, in partnership with NYPD, has just completed the installation of an ice storage chiller plant at the NYPD Applicant Processing Division (APD) in the Sunset Park Courthouse in Brooklyn, a City landmark building. This cutting edge technology operates an ice making chiller at night, when electric demand and costs are low, and uses the ice to cool the building during the day. Ice storage helps to meet the PlaNYC goal of reducing the City's summer peak electrical demand. This $1.9 million project will save $50,000 annually in energy costs.
The NYPD Applicant Processing Division is the administrative center for hiring new police officers. Overnight ice production and storage reduces daytime electrical demand, and allows for the installation of a smaller 90 ton chiller. This chiller does not require 24-hour operation by a licensed operator, which results in significant personnel savings to NYPD. With ice storage, the chiller plant has an effective capacity of 140 tons.
Ice is stored in thousands of dimpled plastic balls immersed in a steel tank filled with a glycol solution. During the day, the super cold glycol solution is pumped to a chilled water heat exchanger. The chilled water is then distributed to air handlers in the building for space cooling. A number of commercial buildings in NYC use this technology, including the new Bank of America headquarters and the Hearst Building on 57th Street, both of which are LEED certified green buildings. The photos below depict the chilled water pumps (left) and the ice-making chiller (right).
| | |
| --- | --- |
| | |
| Chilled water pumps | Ice-making Chiller |
Lighting Upgrade at Staten Island Ferry Maintenance Facility
DCAS Energy Management recently completed a lighting retrofit at the Staten Island Ferry Maintenance Facility, including new office lighting, exit signs, exterior lighting, and occupancy sensors. The maintenance area now has high-output T5 fixtures, which in addition to being more efficient, also provide better quality light – brighter and whiter, with very few shadows (pictured).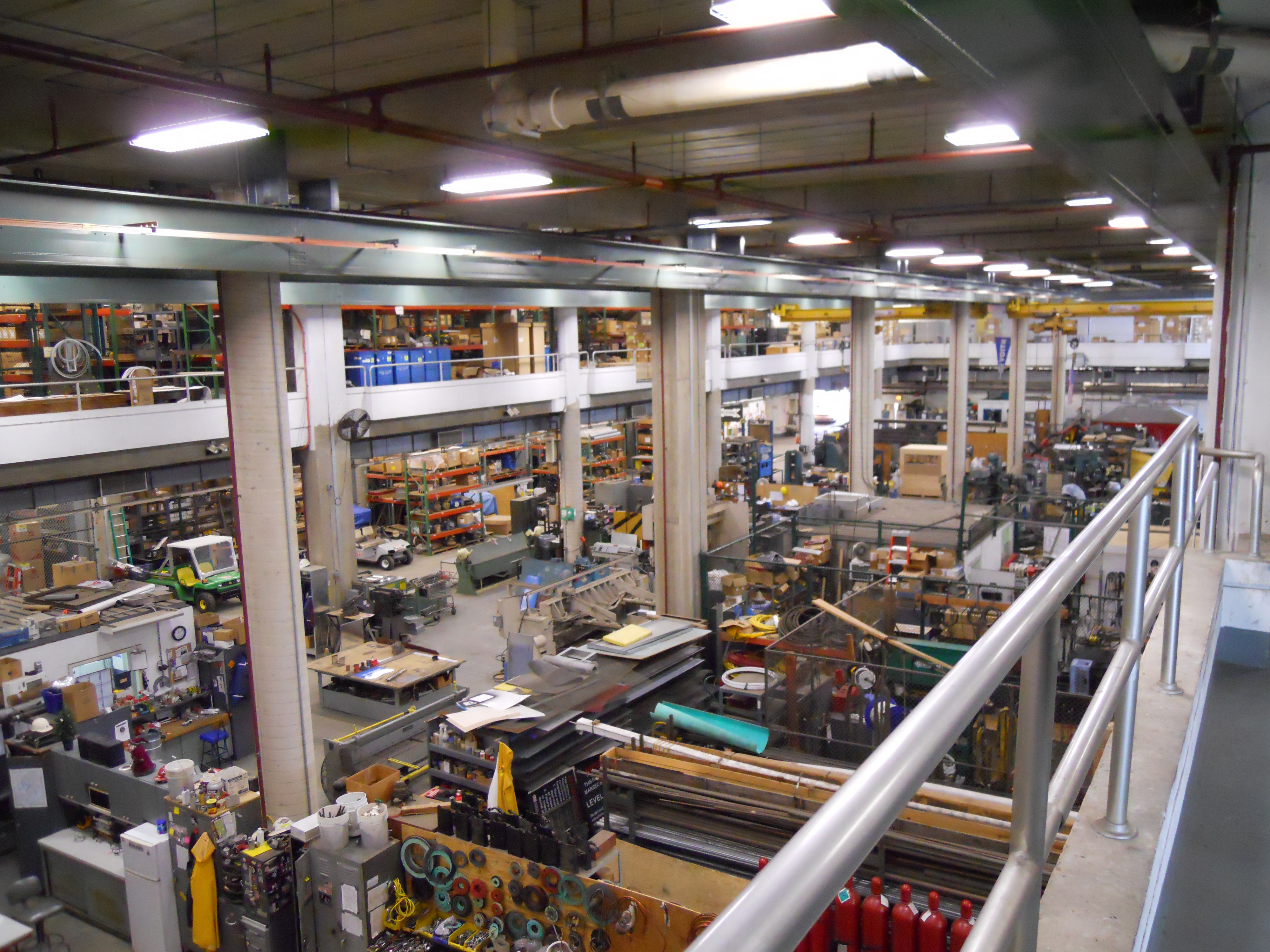 The second phase of this retrofit project will commence this summer. The existing steam boilers and unit heaters will be replaced by an air rotation system, consisting of gas fired indirect heating units and high efficiency condensing boilers. The rooftop package A/C unit will be replaced with a modern, high efficiency unit, and Variable Air Volume (VAV) boxes will be replaced, re-balanced and re-commissioned. A Building Automation System will be installed to provide control of the new systems to optimize energy savings.
When all is done, this project is expected to save the City $159,000 per year, while reducing greenhouse gas emissions by 427 metric tons. In addition to providing energy savings, the new A/C unit will be less harmful to the environment, because it uses a refrigerant that does not deplete the ozone.
Upgrade of lighting system at FDNY's Fleet Services Shop
DCAS DEM recently completed an upgrade of the lighting system at the FDNY's Fleet Services Shop located at 48-34 Long Island City, Queens. The lighting upgrade at this facility alone will save the City over $100,000 annually.
FDNY's Fleet Services Shop provides mechanical repairs and required maintenance for all the FDNY fire apparatus vehicles. In partnership with the New York Power Authority (NYPA) and its subcontractors, DCAS DEM replaced the T12 fluorescent lighting with efficient, high output T5 fluorescents. This upgrade provides the latest technology for the illumination of this critical FDNY facility, and it provides a safer and better environment for mechanical staff to perform their repair duties. This project is expected to reduce energy use and costs by approximately 970,736 kWh and $101,411 annually, at a total project cost of $406,362.
Energy Upgrades at 44 Beaver Street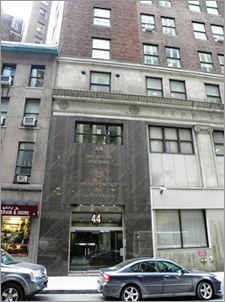 DCAS DEM and the Department of Sanitation (DSNY) are working together to complete a comprehensive energy efficiency upgrade of a DSNY office building at 44 Beaver Street in Lower Manhattan. The 12-story building was built in 1920.
DSNY is upgrading the existing HVAC system, while DCAS DEM, through its contract with the New York Power Authority (NYPA), is retrofitting the lighting system and installing sensors. Together, the two projects are expected to reduce energy use and costs by approximately 430,000 kWh and $66,000 annually, at a total project cost of $2.3 million.
The HVAC upgrade will replace the existing constant volume air conditioning units and bypass air boxes with new AC units on each floor. The supply blowers and return fans on the new AC units will have variable frequency drives, and the temperature in each zone will be controlled by variable air volume (VAV) boxes. The new equipment will enable the system to adjust the amount of air delivered to each zone based on occupancy. The new system also will have an air site economizer that senses the temperature and humidity of outside air and distributes fresh, unconditioned air throughout the building when possible, which together with the other equipment will reduce overall energy consumption and the building's energy bill. The upgrade will also replace existing pneumatic controls with electronic controls.
DCAS DEM and NYPA are replacing all existing lighting in the building with energy efficient lighting and will install occupancy sensors.
Both projects are now under construction and are expected to be complete by September 2011.
Brooklyn Central Library Audit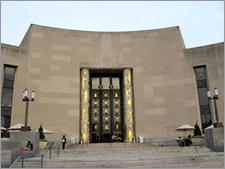 Earlier this month, DCAS DEM in partnership with the Department of Design and Construction (DDC) and its engineering consultant Dome-Tech, Inc. completed an energy audit of the Brooklyn Public Library at 1 Grand Army Plaza. This energy audit is the first completed in partnership with DDC, and three other similar audits are currently underway. The audit process satisfies the requirements of Local Law 87, which requires periodic energy audits, retro-commissioning and retrofits of buildings that exceed 50,000 square feet.
The energy audit at the Central Library reviewed energy use in the four main areas of the 350,000 square foot library: the main library consisting of the two wings lining Flatbush Avenue and Eastern Parkway along with the main lobby and circulation rooms; the "decks," which are four floors of book storage located below ground; the "new wing" along Flatbush Avenue which consists mainly of office space; and the Dweck Auditorium, which consists of a lobby and auditorium used for various events. The audit identified twelve energy conservation measures (ECMs) and eight retrocommissioning measures (RCMs) which, if implemented, could save the library a total of almost $333,000 annually in energy costs. With a current annual energy bill of over $730,000, this represents a 45% reduction in energy costs for the library.
The ECMs with the greatest electricity savings are optimizing computer use by time of day, upgrades to the library's lighting and the installation of lighting occupancy sensors, and the installation of new or expansion of existing building management systems, which allow for centralized operation of multiple pieces of equipment. Other recommendations include replacing restroom sink aerators, installing software that allows vending machines to power down overnight, and a steam trap maintenance program.
Solar Array at New York Hall of Science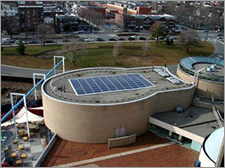 Located in Flushing Meadows - Corona Park in Queens, the New York Hall of Science (NYSCI) is an entertaining and educational children's science museum with 450 hands-on exhibits exploring science, technology, engineering and math. NYSCI is a host site for a 16 KW rooftop solar photovoltaic (PV) system, a joint project of the Department of Citywide Administrative Services, the Department of Cultural Affairs, and the New York State Energy Research and Development Authority (NYSERDA). NYSCI uses the solar PV system as an interactive learning tool for museum visitors, including those who visit the museum's website.
Beginning in December, you can see the sun's power at work on the roof of NYSCI at www.nysci.org/pv. The web page shows how much energy has been produced on a daily basis for the past week, and answers kid-friendly questions about how that energy would translate into powering various familiar household devices.
DCAS DEM is currently pursuing a total of more than three megawatts of solar PV in collaboration with DOT, DSNY, DEP, NYPD, DOHMH, and DOE through various projects. The City is installing thirteen systems with the support of federal stimulus funding, eight of which are currently under design. The City is pursuing larger solar installations through an RFP for third-party development and of solar on City buildings. The RFP is expected to be released in the next few months.
In May, DCAS DEM, in partnership with the New York Power Authority (NYPA), completed lighting upgrades, the installation of sensors, and the replacement of motors at 125 Worth Street in Lower Manhattan. The 10-story building, pictured below, was built in 1935 and currently houses offices for DCAS, the Health and Hospitals Corporation, the Department of Health and Mental Hygiene, and the Department of Sanitation. It is also where the public can go to pick up birth and death certificates.
This project represents the most common type of energy-saving retrofit that DEM implements across a wide spectrum of City buildings. Lighting upgrades are relatively straightforward and produce reliable energy savings. In this case, the total project cost was $421,000 and annual savings are expected to be over $53,000 for a simple payback of under eight years. Annual electricity savings are estimated to be just over 475,000 kWh, equivalent to taking approximately 100 New York City households off the grid.
Energy conservation at NYPD Forensic Lab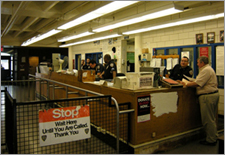 The Detective Bureau Forensic Investigation Division (FID) in Jamaica, Queens occupies a unique NYPD facility where crime scene evidence is scientifically analyzed. The laboratory was originally a Montgomery Ward department store built in 1931 and was converted to police use in 1992. Because of the scientific activities that go on there, maintaining indoor air quality and lighting quality are critical. In partnership with NYPD, DEM is proceeding with a two-phase energy conservation project at the Forensic Lab, based on the recommendations of a 2006 NYPA and consultant study.
Phase 1: The reconstruction of the interior lighting system includes the installation of new T8/electronic ballast fixtures and occupancy sensors that will shut lights off when spaces are unoccupied. The photo to the left illustrates a similar lighting upgrade at a different NYPD facility. The new fixtures, in addition to using less electricity, will improve lighting color, eliminate "ballast hum," and generate less heat. This $574,000 project will reduce electric use by nearly 400,000 kilowatt-hours annually. The project is currently in construction and is nearing completion.
Phase 2: The reconstruction of the HVAC (heating, ventilation and air conditioning) system will include the installation of a new 800 ton high efficiency chiller, variable speed drives for fans, and a new gas-fired hot water heater. The project will also expand and upgrade the building automation system. Phase 2 of the project will cost $5.7 million, and will reduce electrical use by 1,286,000 kilowatt-hours annually. Phase 2 is in final design, with construction expected to begin in the fall. The new HVAC system will be operational in time for the 2011 cooling season.
Rapid roll-up doors at DSNY's 26th Street Repair Garage
The 26th Street Repair Garage is the Department of Sanitation's repair garage for the borough of Manhattan. This 205,000 square foot facility allows DSNY to perform major repairs and inspections to their entire vehicle fleet (garbage trucks, street sweepers, salt spreaders, sedans, etc).
Following the recommendations of a comprehensive energy audit of the garage in May 2008, DEM, in partnership with DSNY and NYPA, began working on a comprehensive package of energy efficiency upgrades, which together will have a total cost of $4.1 million and result in $328,155 annual energy cost savings and 1,365 metric tons of greenhouse gas emissions reductions. Implementation of these upgrades is progressing in phases: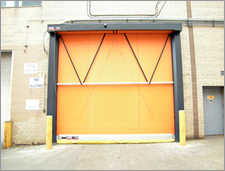 Phase I (complete): Retrofit of 1,567 light fixtures.
Phase II (under construction): Replacement of one large 100' wide sliding door with a 35' wide rapid roll-up door (see photo to the right). A rapid roll-up door is a flexible yet durable door that opens using a motion detection sensor and closes within seconds, greatly reducing the amount of heating or cooling that escapes the building compared to a mechanical or manual door, which requires an operator to close, and therefore is likely to be remain open while facility is in use.
Phase II (under design): Upgrades to the HVAC system. Replacement will include 14 new packaged HVAC units and a control upgrade to provide the necessary heating and cooling comfort levels throughout the year without additional energy usage.
The 26th Street Repair Garage is the first PlaNYC-funded comprehensive energy audit with recommendations that have moved to construction. It is also the first project that has integrated improved operations and maintenance into the audit/retrofit process.
To see the rapid roll-up door in action, you can click on the above photo for a short video.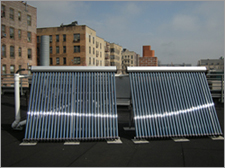 Solar thermal for hot-water (SHW) is a renewable energy application that harnesses heat from the sun to provide hot-water and heating in buildings. SHW systems are relatively straightforward to retrofit into buildings, can store heat for use at night, and even produce energy on cloudy days. With minimal maintenance and reasonable paybacks, SHW in the right application can offer a creative and cost-effective way to reduce greenhouse gas emissions.
How does it work?
As shown in the photo to the right, each of the two solar collectors is made up of thirty high-efficiency, twin glass evacuated tubes. A transfer liquid absorbs the heat collected by the tubes and circulates it through a series of insulated pipes to a hot-water storage tank. Glycol, an anti-freeze fluid, is used as the heat transfer fluid instead of water to allow the system to operate year round.
In the summertime, a solar hot water system is typically expected to fully meet the hot water needs of a facility. In the winter, a natural gas-fired hot water heater serves as back-up. The solar hot water storage tank pre-heats the water, and the gas-fired tank raises it to a final temperature between 120 and 124 degrees F.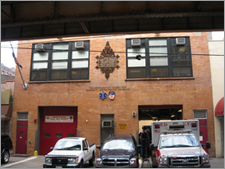 The New York Fire Department (FDNY) is leading the City's deployment of this technology through its pilot of SHW at Emergency Medical Station (EMS) 19 in the Bronx, shown to the left. Installation of two 30-evacuated tube collectors, piping, and hot-water storage tank was completed by FDNY in January 2009. Even in spite of a colder winter, the system saved 1,275 therms of natural gas and nearly $2,000 dollars in its first year of operation. Building on these successes, the City has applied for and was awarded funds for SHW systems at five additional firehouses in Far Rockaway and has applied for $425,124 to fund 13 more installations. Design for the five grant-funded systems and a large installation at Department of Parks and Recreation's St. Mary's Recreation Center in the Bronx are underway. In June, FDNY will complete another installation at Engine Company 298, for a total of eight systems in the works.
The Bronx Zoo, in partnership with DCAS, the New York Power Authority, and the NYC Department of Design and Construction, has installed a fuel cell at the Zoo's Lion House. The Lion House, built in 1903, is the largest of the Beaux-Arts buildings on the Zoo's central Astor Court and is a NYC Historic Landmark. As pictured below left, it has been reconstructed to house the Zoo's "Madagascar" exhibit.
| | |
| --- | --- |
| Photo credit: Julie Larsen Maher, WCS | |
The photo above right shows Jon Dohlin, Wildlife Conservation Society Project Manager for the Madagascar exhibit, overseeing the installation of the fuel cell at the rear of the Lion House. The energy-saving fuel cell will operate along with the existing Bronx Zoo cogeneration power system and with the Con Edison grid to reduce the electrical needs of the Lion House by 200 kilowatts. The clean, virtually emission-free power generated by the fuel cell allows the Zoo to meet its growing power needs while offsetting the need for upgrades to the existing Lion House's power supply. The heat generated by the fuel cell will be utilized for space heating and hot water, as opposed to wasted "up the stack" as in a conventional power plant.