On this page, you can find statistics about New York City's municipal energy use and energy efficiency programs. Click on the links to jump to:
Greenhouse Gas Reduction Progress
NYC Municipal Energy Use
NYC Municipal Energy Budget 
Greenhouse Gas Reduction Progress
The graphics below represent progress as of summer 2011 towards New York City's goal to reduce municipal government greenhouse gas emissions 30% by 2017. For more information on the overall 30x17 Plan, visit Energy Efficiency & GHG Reduction (30x17). Check back every few months for updated information.
 Energy Management Training for New York City employees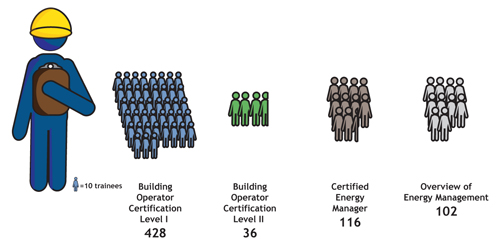 Greening the New York City Municipal Fleet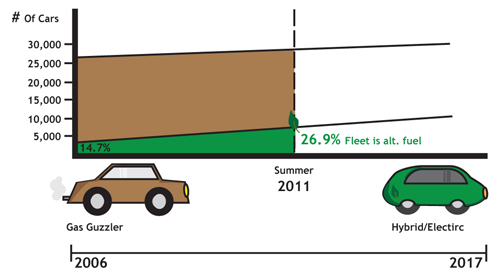 GHG Emissions Reduction at NYC Wasterwater Treatment Plants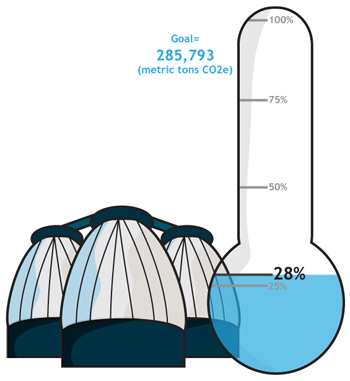 NYC Municipal Energy Use
Energy use for all New York City agencies and public institutions is tracked centrally by DCAS Energy Management using Energy Cost Control and Conservation (EC3). The EC3 reports available below show the City's energy use and GHG emissions by agency on a monthly and annual basis. EC3 reports are not weather-normalized, but data can be adjusted for weather using Heating and Cooling Degree Day Data (Excel opens in new window).
| | |
| --- | --- |
| Energy Change Report | Core Report |
| The Energy Change Report shows total energy use for current month and year-to-date; check how your agency is doing compared to the City as a whole. | The Core Report shows energy use, greenhouse gas emissions, and cost by month with detail by energy type on the second page. |
| | |
| |   |
NYC Municipal Energy Budget
DCAS Energy Management purchases energy for City agencies, tracks use and billing, and works with the Mayor's Office of Management and Budget to develop the City's annual energy budget.
The Fiscal Year 2012 budget for utility purchases for New York City agencies and public institutions is $871.6 million. 93% of the budget is City funded; the rest is paid for through state funding, user charges, and other sources. Approximately 74% of budgeted energy dollars are spent on electricity, 9% on steam, and 16% on natural gas.* The remaining 1% of the budget is payment for energy conservation measures installed by NYPA under the ENCORE program. Most electricity is supplied by the New York Power Authority (NYPA). Natural gas is purchased from various vendors and is delivered by Con Ed and National Grid, depending on location. Steam is purchased from Con Ed for heating, and in some cases, cooling buildings in Manhattan south of 96th St.
*Agencies purchase their own fuel oil.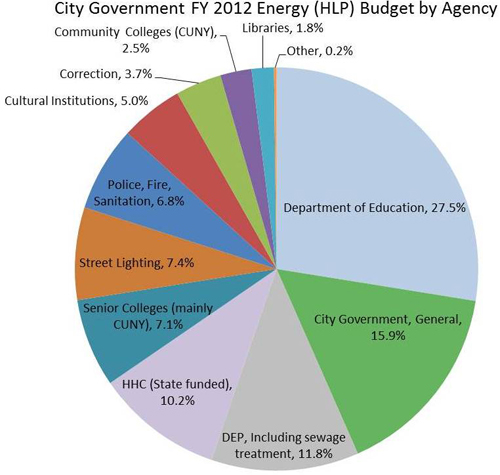 NYC Municipal FY12 Energy (Heat, Light & Power) Budget, by Agency
| | | |
| --- | --- | --- |
| Category | FY12 Adopted Budget | % of Total |
| Department of Education | $239,991,755 | 27.5% |
| City government, general | $138,229,957 | 15.9% |
| DEP, Including sewage treatment | $103,113,585 | 11.8% |
| HHC (State funded) | $88,984,633 | 10.2% |
| Senior Colleges (mainly CUNY) | $61,758,663 | 7.1% |
| Street Lighting | $64,671,074 | 7.4% |
| Police, Fire, Sanitation | $59,533,831 | 6.8% |
| Cultural Institutions | $43,935,756 | 5.0% |
| Correction | $32,215,171 | 3.7% |
| Community  Colleges (CUNY) | $21,835,443 | 2.5% |
| Libraries | $15,549,598 | 1.8% |
| Other | $1,755,198 | 0.2% |
| Total | $871,574,669 | 100.0% |