Energy use for all New York City agencies and public institutions is tracked centrally by DCAS Energy Management. Agencies are provided with monthly reports, and staff can use a web-based system, Energy Cost Control and Conservation (EC3), to access data to track and analyze their agency's energy use.
The reports below show energy use and GHG emissions Citywide and by agency. Additional detailed reports are available by facility and account, for multiple years.
NYC Municipal Energy Budget
DCAS Energy Management purchases energy from utility sources for New York City agencies and public institutions, tracks use and billing, and works with the Mayor's Office of Management and Budget to develop the City's annual Heat, Light, and Power (HLP) budget. The Fiscal Year 2018 HLP Budget is $709 million; state funding for most of the senior colleges and other sources bring total expected FY18 billings close to $780 million.
Electricity is just over three-quarters of the budget in terms of cost, and half of the budget in terms of energy content. Natural gas for heating is 14% of costs and 43% of total energy used. District steam makes up the balance. Fuel purchases are budgeted separately.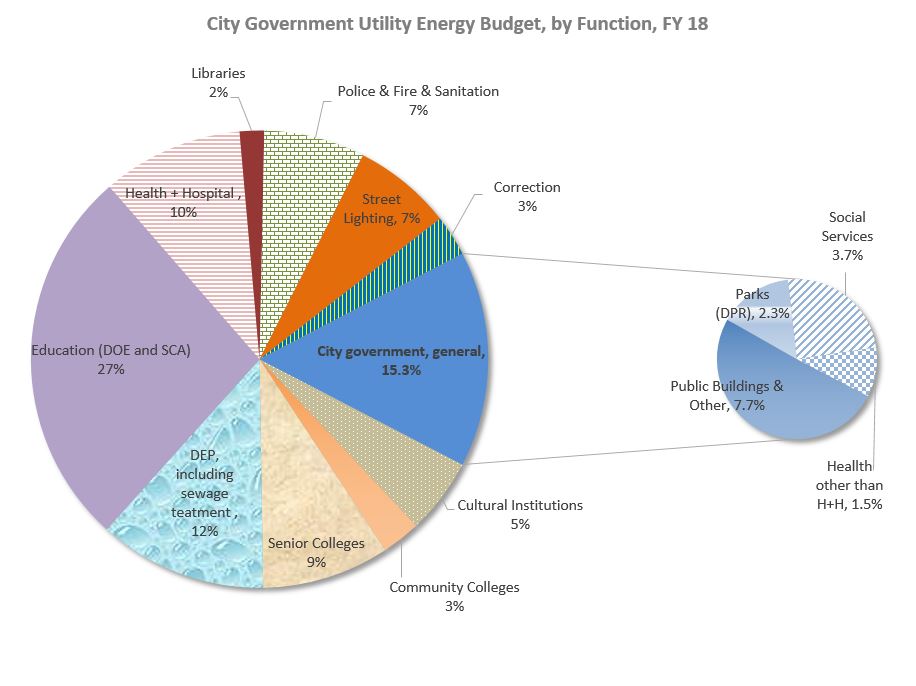 NYC Municipal FY17 HLP Budget

Category

Amount ($)

%

City government, general

119,054,967

15.3%

Cultural Institutions

41,757,864

5.4%

Community Colleges

21,369,712

2.7%

Senior Colleges

70,318,945

9.0%

DEP, Including sewage treatment

92,771,068

11.9%

Education (DOE and SCA)

210,219,452

27.0%

Health and Hospitals (State Funded)

77,976,415

10.0%

Libraries

13,481,370

1.7%

Police, Fire & Sanitation

55,705,558

7.1%

Street Lighting

54,575,646

7.0%

Correction

22,528,772

2.9%

TOTAL

779,759,769

100.0%