The Demand Response program is an electricity grid- and utility-run series of programs which not only reduce energy usage but also offer financial incentives to partner City facilities. During times of peak electricity demand or an emergency, participating buildings are paid to shed electric load to reduce the strain on New York City's electricity grid. Demand Response contributes to maintaining the reliability of New York's power infrastructure, avoiding brownouts or blackouts caused by extreme weather or supply disruptions. Load reduction also reduces greenhouse gas emissions by limiting the use of the most expensive and often dirtiest power plants, which are only fired up during peak demands.
Enrolled facilities shed electric load by turning off discretionary equipment and lighting, raising space temperatures, or running back-up generators when the grid is at risk for failure, usually during the hottest days of the year. Each agency then receives revenue depending on kilowatts reduced and rates set by the New York State electricity grid manager (NYISO) and/or Con Edison. The more load enrolled, the higher the potential earnings.
The City has participated in demand response programs since 2002, committing City facilities such as courthouses, college campuses, sanitation garages, wastewater treatment plants, office buildings, museums and more. Through a 2013 contract with NuEnergen, a demand response provider, the NYC government has provided up to 75 MW of grid relief annually, expanded citywide participation to over 380 facilities across 22 agencies, and earned a revenue of more than $22 million to date!
Citywide Revenue Progress since NuEnergen Contract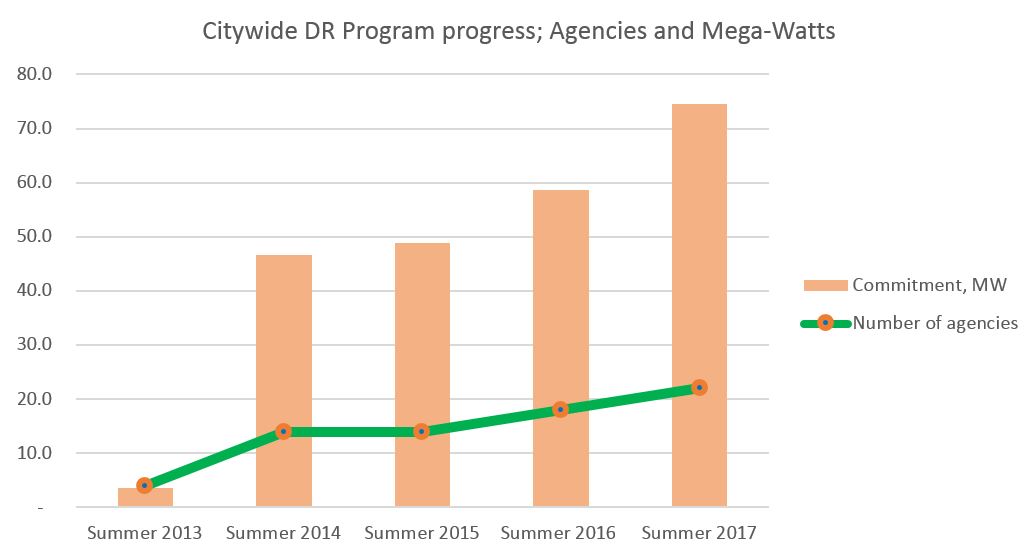 Citywide Mega-Watt Commitment Progress since NuEnergen Contract
The Energy Management team has also partnered with NuEnergen to develop a web-based portal called ENERTRAC. This portal is a source of all Demand Response program-related metrics, real-time electric load monitoring data feeds and historical interval data. Through ENERTRAC, participating agencies can monitor the energy usage of each enrolled building and, via this data, reduce energy use as needed.
ENERTRAC Historic and Real-Time Tracking
In the near future, the City plans to increase the commitment reduction goal to 80 megawatts annually and expand participation to 500 facilities across 25 agencies. The City also aims to integrate real-time electric load monitoring equipment across all program participants, and enhance ENERTRAC to include new tools, analytics, and mobile capability.
Agencies interested in participating may arrange a NuEnergen audit to assess if their facilities are able to curtail electric load. Contact Leonid Zolotarev (DCAS-Energy Management) at lzolotarev@dcas.nyc.gov, or Anton Nicaj (NuEnergen) at anicaj@nuenergen.com.
For more information about New York State's demand response programs, visit the NYISO website. For Con Edison's demand response programs, visit the Con Edison website.