Energy efficiency retrofits and operational and maintenance improvements made by building managers and users are working to lower Citywide energy consumption! By 2017 agencies are expected to reduce municipal GHG emissions 1.67 million metric tons, equivalent to a 30% reduction below base year of FY2006.
NYC Municipal Energy Use
Energy use for all New York City agencies and public institutions is tracked centrally by DCAS Energy Management. Agencies are provided with monthly reports, and agency energy team members can use DEM's web-based system, Energy Cost Control and Conservation (EC3), to access data to track and analyze their agency's energy use. The reports below show energy use and GHG emissions Citywide and by agency. Additional detailed reports are available by facility and account, for multiple years.
| | |
| --- | --- |
| | |
| The Core Report shows Citywide energy use, greenhouse gas emissions, and cost by month with detail by energy type on the second page. To access these reports, click here. | The Energy Change Report shows total energy use for current month and year-to-date; check how your agency is doing compared to the City as a whole. To access these reports, click here. |
NYC Municipal Energy Budget
DCAS Energy Management purchases energy from utility sources for New York City agencies and public institutions, tracks use and billing, and works with the Mayor's Office of Management and Budget to develop the City's annual Heat, Light, and Power (HLP) budget. The Fiscal Year 2014 HLP Budget is approximately $944.5 million, of which about $800.1 million is city funded. The remainder is paid for through state funding, user charges, and other sources.
Approximately three quarters of HLP budget dollars are spent on electricity, supplied primarily by the New York Power Authority (NYPA). Natural gas is purchased from various vendors and is delivered by Con Ed and National Grid, depending on location, and accounts for 16% of the budget. Steam, which amounts to 9% of the budget, is purchased from Con Ed for heating, and in some cases, cooling buildings in Manhattan south of 96th Street. Fuel purchases are budgeted separately.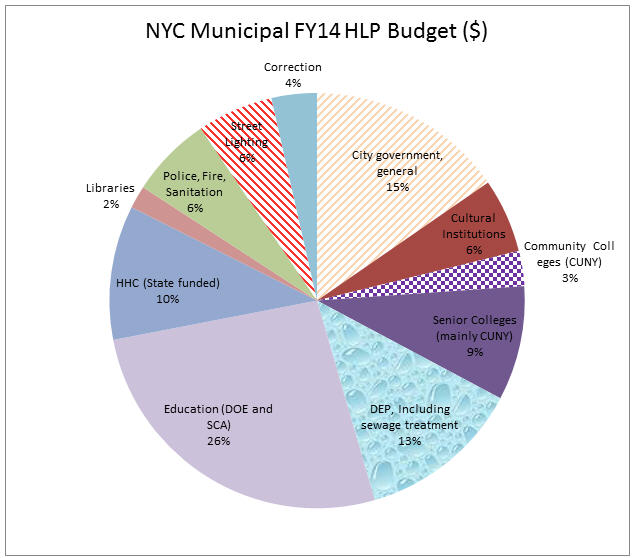 NYC Municipal FY14 HLP Budget

Category
Budget ($ in millions)
City government, general

$134.2

Cultural Institutions

$50.3

Community Colleges (CUNY)

$23.9

Senior Colleges (CUNY)

$77.7

DEP, including sewage treatment

$111.0

Education (DOE and SCA)

$230.6

HHC (state funded)

$91.3

Libraries

$15.4

Police, Fire, Sanitation

$55.5

Street Lighting

$51.6

Correction

$30.9

Total

$944.5
Note: City-funded portion of budget = $801 million