Working together to operate and maintain City buildings smarter.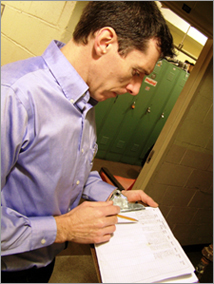 Improving the operations and maintenance of the City's buildings can help reduce greenhouse gas (GHG) emissions by 185,000 metric tons annually, approximately 12% of the GHG emission reductions necessary to reach the City's 30x17 goal. Operations and Maintenance (O&M) practices are the day-to-day activities of a building's engineer or operator to keep a building operating effectively and keep building users comfortable and safe. Energy efficient O&M practices include, monitoring energy use, adjusting and properly maintaining equipment, and operating the building's lighting, heating, ventilating, and air conditioning (HVAC), and other mechanical systems.

An efficiently operated building will meet its occupants' needs using the least amount of energy required. Lighting and HVAC systems are set at the precise levels and temperatures necessary to illuminate and condition the space according to the building's operating hours and occupancy levels.
O&M Study and Pilot
The City's O&M Plan
Repairing, Maintaining, and Operating Existing Equipment Efficiently
Increase Training and Outreach to Improve Skills
Provide Management Oversight, Accountability, and Transparency
O&M Study and Pilot
DEM and its consultants completed a year-long study highlighting industry best practices and identifying opportunities for improving the City's O&M performance. These recommendations were tested during a one-year pilot at ten schools and six DCAS office buildings. The pilot involved agency managers, facility operators and building occupants, who implemented no cost operational changes, resulting in a 17% reduction in energy usage. Tools for tracking and managing energy use were developed and best practices were tested and refined. These tools and lessons from the pilot were used to develop a strategy for improving O&M practices at all City facilities.



The City's O&M Plan
Based on findings from the study and pilot, DEM developed the Energy Efficiency Operations and Maintenance Plan (EEOMP) (PDF opens in new window). The EEOMP focuses on three main objectives:
1) Repairing, maintaining, and operating existing equipment efficiently;
2) Increasing training and outreach to improve skills and raise awareness; and
3) Providing management oversight, accountability, and transparency.
Implementation of the EEOMP is expected to reduce citywide energy usage 10 to 15% per year resulting in savings of at least $51 million dollars and 185,000 metric tons of GHG emissions.
The initial roll-out of the EEOMP is underway with the seven City agencies that consume the most energy, and together represent 75% of the City's building portfolio over 50,000 square feet:
DCAS
Department of Corrections (DOC)
Department of Education (DOE)
Department of Sanitation (DSNY)
Police Department (NYPD)
Fire Department (FDNY)
Department of Parks and Recreation (DPR)
EEOMP implementation includes the following on-going activities:
Repairing, Maintaining, and Operating Existing Equipment Efficiently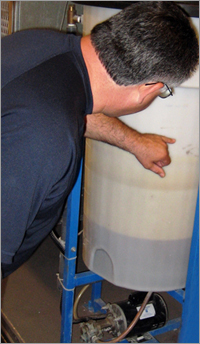 Operating existing equipment as efficiently as possible requires reevaluating current operating standards in every City facility. Agencies need to review equipment scheduling, building set points, temperature standards and other easily adjusted, no and low cost operating parameters to reduce energy use.
An effective PM program will keep equipment operating at optimal efficiency. The program includes performing regular (i.e. weekly, monthly, quarterly and yearly) maintenance tasks as well as keeping records of scheduled work. DEM provides the tools that enable agencies to better organize and monitor facilities and operations and will support preventative maintenance through citywide requirements contracts.
DEM will be deploying an Energy Enterprise Metering System that will make real time data available to agencies to assist with making informed decisions about building operations and maintenance to reduce energy consumption.
Access the O&M Tools online

Increase Training and Outreach to Improve Skills
In partnership with the City University of New York and the Association of Energy Engineers, DEM currently offers four training programs to help City employees develop the skills necessary for successful building operations and maintenance: Overview of Energy Management, Building Operator Certification - Level 1, Building Operator Certification - Level 2, and the Certified Energy Manager Program. To date, over 300 City employees have enrolled in these courses. DEM and CUNY are also working with individual agencies to develop agency-specific strategies to train a higher number of City building operators. Additionally, DEM is looking into union-sponsored training opportunities where appropriate.
Energy awareness and outreach programs directed at building occupants are vital to reaching the City's GHG reduction goals. DEM outreach staff has developed materials and programs that facilitate and increase energy awareness of individuals not normally involved with building operations. These efforts are ongoing at various points of the year with specific seasonally related materials. Where necessary, agency specific materials are developed. DEM has also organized a Green Team at the Manhattan Municipal Building at 1 Centre Street. Comprised of representatives from the building's 12 tenant organizations, the purpose of the Green Team is to inspire cooperation and proactive behavioral change from building occupants, who play a vital role in reducing the building's energy consumption.



Provide Management Oversight, Accountability, and Transparency
A successful O&M Plan depends on the full support of management to ensure that enhanced operations and maintenance are fully integrated in the agency's responsibilities. DEM is funding Energy Managers in each of the seven agencies. The Energy Managers report to upper level management within their respective agencies and are the primary 'voice' within the agency for all EEOM related matters. Energy Managers also report to the Director of Operations & Maintenance at DCAS to ensure that efforts are coordinated citywide and that agencies are implementing best practices from other agencies. Energy Managers are responsible for coordination, development, implementation and monitoring of its agency's EEOM plans.
Additionally energy managers are expected to use Operations and Maintenance Tools to track and report on the following performance metrics to DEM:
Number and percentage of agency facilities utilizing EEOM plan tools
Progress against agency defined training goals
Total agency energy usage per square foot
Facility and agency energy usage by energy type
Facility and agency energy usage by energy type per square foot
Energy Managers meet monthly with DEM to review EEOM deployment and report results.