Co-generation and Natural Gas-based Distributed Generation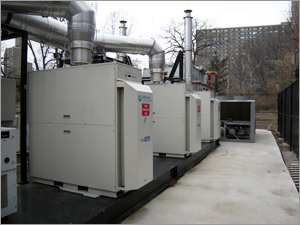 The City is pursuing a variety of clean, distributed generation (Clean DG) technologies. Clean DG is on-site energy generation that uses clean or renewable fuel sources to produce electricity and, in some cases, steam or hot water. Clean DG includes reciprocating engines, microturbines and fuel cells as well as solar photovoltaic (PV), solar thermal, wind, and biomass technologies.
Cogeneration or Combined Heat and Power (CHP) is the combined production of thermal and electric energy. Heat created in the electricity generation process is used for steam, domestic hot water, and other on-site thermal needs. In addition to improving a building's energy efficiency and reducing greenhouse gas emissions, CHP technologies help alleviate grid constraints, lower energy costs, and provide operational independence. The City has several CHP projects underway including:
A 15 Megawatt Combined Heat and Power (CHP) plant at Rikers Island will go into construction this summer
A 325 KW CHP plant is in design for the New Police Academy. With an estimated cost of $1.2 million and annual savings of $205,000, the project is expected to pay for itself in less than six years.
Two investment-grade Clean DG feasibility studies funded with federal stimulus dollars are underway, one at a complex of office buildings and court houses in downtown Manhattan (Centre Street Complex) and the other at the North River Wastewater Treatment Plant.
The Bronx Zoo operates a five megaWatt cogeneration plant, a fleet of micro-turbines and a fuel cell. Read more about the Bronx Zoo's clean DG installations in this case study.
Fuel cells have been installed at Coney Island Aquarium, the Central Park Police Precinct, and several wastewater treatment plants.
Renewable Energy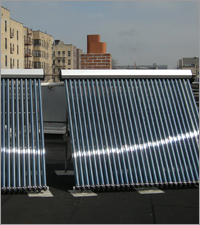 DCAS is exploring a range of cost-effective renewable energy applications and emerging technologies to harness solar, wind, and biomass sources. These projects include:
Issuing a Request for Proposals for third-party ownership and installation of approximately three megaWatts of solar photovoltaic (PV) capacity on City buildings, while leveraging federal stimulus bonds.
Installing rooftop solar PV systems funded through the State Energy Program at three police precincts, three garages, a health center, and a school. Solar PV systems have been installed at the following locations: Bronx High School of Science, Brooklyn Children's Museum, Queens Botanical Garden, and New York Hall of Science. See the Case Study page to learn more about the 16 KW solar PV system at the Hall of Science.
Piloting solar hot water systems at various firehouses and one recreation center. See the Case Study page to learm more about the installation of solar thermal at a firehouse in the Bronx.
Launching an investment grade feasibility study of installing a one Megawatt wind turbine at the Oakwood Beach wastewater treatment plant on Staten Island.
Purchasing Renewable Energy Credits (RECs) from a wind farm in update New York; coordinating with Mayor's Office of Environmental Coordination (MOEC) to allocate RECs toward Local Law 86 of 2005 projects for the LEED Green Power credit. For more information, visit MOEC's website.