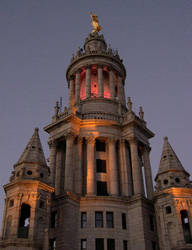 DCAS Energy Management (DEM) manages the energy accounts and efficiency initiatives for New York City government operations. DEM is responsible for achieving the City's ambitious PlaNYC goal of reducing municipal greenhouse gas (GHG) emissions 30% by 2017.
DEM's mission is to serve as the hub for energy management for City government operations, from energy procurement to performance tracking, improved operations & maintenance, and building retrofits. DEM's long-term goals are to 1) ensure clean, reliable energy to support City operations, and 2) reduce greenhouse gas emissions of operations.
DEM handles electricity, natural gas, and steam accounts that serve 80 agencies and more than 4,000 buildings, providing energy services to all Mayoral agencies, the Health and Hospitals Corporation, the City University of New York, the New York, Brooklyn and Queens Public Libraries and 34 cultural institutions. In collaboration with the City's Office of Management and Budget, DEM also develops the annual Heat, Light, and Power budget for City agencies. Go to Municipal Energy Use for more information on the City's energy budget and energy use.
In addition to procuring energy services and managing the City's energy budget, DEM oversees the City's energy efficiency initiatives. DEM is leading the effort to accomplish the City's ambitious goal of reducing its energy consumption and greenhouse gas (GHG) emissions 30% by 2017 (30 x 17), as described in New York City's long-term sustainability plan, PlaNYC. See the GHG Emissions Reduction page to learn more.
Read about examples of the City's energy efficiency projects in the Programs & Projects section.