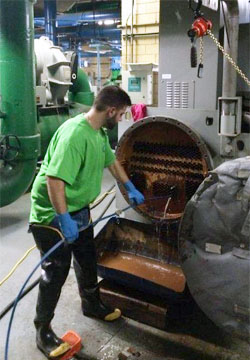 Operations and Maintenance (O&M) practices are the day-to-day activities and long term strategies of a building's stationary engineer or operator to maintain an effective, safe, and comfortable building environment. Energy efficient O&M practices include scheduling and monitoring energy needs, the proper maintenance of equipment, and operating the building's lighting, heating, ventilating, air conditioning, and refrigeration equipment (HVACR), and other mechanical systems. An efficiently operated building will meet its occupants' needs using the least amount of energy required, all while maintaining a safe and healthy environment. DCAS Energy Management offers a variety of energy management training opportunities for City facility and engineering staff to enhance sustainable building operation skills.
DCAS Energy Management developed and manages the implementation citywide of the Energy Efficiency Operations and Maintenance Plan (EEOMP). Through the EEOMP, DEM has advanced the following efforts:
Hiring agency Energy personnel to oversee O&M efforts and develop agency-wide energy management strategies;
Developing targeted O&M funding program such as the Expenses for Conservation and Efficiency Leadership (ExCEL) program; and
Creating the Preventative Maintenance Collaborative to help agencies access the resources needed to repair, maintain, and operate existing equipment efficiently.
Energy Managers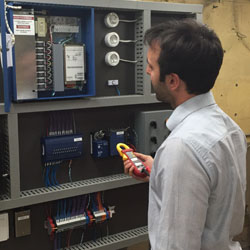 As part of the City's efforts to implement effective operations and maintenance procedures and improve building efficiency, DEM provides funding for energy management personnel at the largest City agencies. These positions can include Energy Managers, Energy Analysts, and/or Energy Engineers. Agency energy personnel are responsible for the development, implementation, and monitoring of their agency's energy program. This staff ensures that efforts are appropriately coordinated citywide, and that each agency is implementing industry best practices.
Other key duties for energy personnel include the development and deployment of an operations and maintenance ("O&M") program; the identification and implementation of energy-saving projects; the development of measurement metrics and reports to ensure compliance with citywide goals; determining training needs; reviewing energy usage reports; and tracking and ensuring proper utility billing.
Program Highlight: Parks Department Preventative Maintenance Program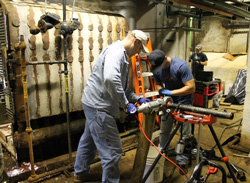 Keeping complex mechanical and electrical systems in a state of good repair is key to maintaining an energy-efficient building. With over 4,000 municipally-owned facilities, this is no small task for City employees.
Leaky boiler? Corroded steam pipes? No problem! In 2013 the Department of Parks and Recreation developed a model program to keep their facilities in tip top condition. By hiring and training a team of skilled staff and then implementing industry best practices in building maintenance, the Parks Department was able to repair equipment scheduled for replacement, deferring over $3.2 million in capital costs. In addition, by optimizing building systems, the team will save an estimated $700,000 in energy costs per year across their 50 largest buildings, and they will reduce annual GHG emissions by 2,639 metric tons. The program will extend the operational life of costly building equipment, while keeping Parks facilities safe and comfortable.
Recognizing the success of this model, the City has expanded this program to an additional 6 agencies to date with the aim of reducing energy and overhead costs by ensuring that controls and equipment are operating as specified - a simple, cost-effective solution for energy efficiency that aims to be standardized across the City portfolio.