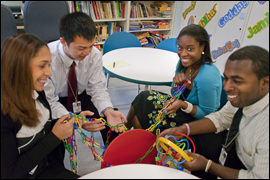 Photo by: Michael Evangelou, PSC Intern
Since the program's inception in 1966 as the NYC Urban Corps, over 100,000 students from more than 100 colleges and universities have participated in PSC's public-sector internships.
The Public Service Corps currently offers Federal Work-Study Program internships as well as placements in which students may work for academic credit. Students choose from internship opportunities in many City government agencies. Public Service Corps interns work in full-time assignments during the summer, and part-time during the academic year.

View placement Options
PSC and America Reads
The Public Service Corps participates in America Reads, a national initiative to help children read well in the early grades. PSC interns may choose assignments to work as literacy tutors in day care centers, schools and libraries across New York City.


Learn more
Public Service Corps students may explore a wide range of professional career areas including law, research, finance, education, social work, environmental studies, accounting, office administration, health, information systems, graphic arts, journalism, engineering, and computer technology.
As Public Service interns, students will:
Gain valuable credentials, contacts and references for future employment
Apply their classroom learning in the workplace
Gain marketable skills and expertise
Obtain exposure to the broad range of professional opportunities in the public sector
Learn more about specific career options within City government