| | Social Justice Post-Graduate Fellowship (SJPF) |
| --- | --- |
The New York City Social Justice Post-Graduate Fellowship (SJPF) is a full-time program for law school graduates to gain professional experience within municipal government. In its second year, the SJPF Program term will run from January to October of 2018.
Placement in New York City government offices lies at the heart of the SJPF Program. Fellows will be placed within mayoral and non-mayoral City agencies, offices, or the City Council in roles that complement their skill sets, interests, and expertise. The work is legal in nature. Fellows work on projects that foster equity for underserved and under-resourced communities, and engage in issue areas that impact communities that experience disparate outcomes in the five boroughs. In this capacity, Fellows have the opportunity to collaborate with senior level policymakers, elected officials, and participate directly in the work of policymaking and governance.
While taking part in the work of government, NYC Social Justice Fellows are required to participate in educational and professional enrichment programming throughout the term that will help them serve as effective government leaders.

ELIGIBILITY:
Prospective applicants should:
Have graduated from an ABA-certified law school no earlier than May 2014

Be admitted to the New York State Bar or be taking the appropriate steps to gain admission, as determined by the SJPF Program staff

Demonstrate an interest in public service

Demonstrate a strong commitment to social justice

STIPEND and BENEFITS:

Selected fellows will receive a stipend of $46,500.00 for an anticipated 9-month fellowship term

Fellows will be full-time employees of the City of New York and eligible for benefits in accordance with civil service title regulations
Meet the 2018 Cohort of NYC Social Justice Fellows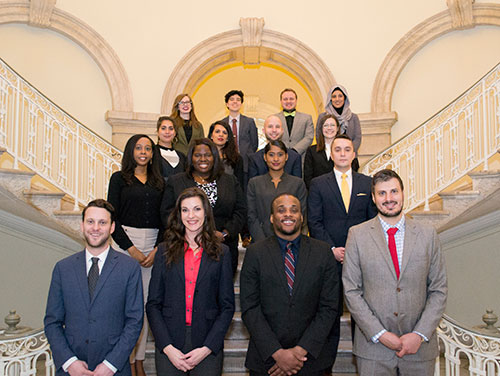 APPLICATION:
The 2018 SJPF application process is now closed.
SUBMISSION INSTRUCTIONS:
Please submit completed application materials to:
Social Justice Post-Graduate Fellowship Program
1 Centre Street, Rm 2425
The David N. Dinkins Municipal Building
New York, NY, 10007

OR

send one email with all materials attached in PDF format to
socialjusticefellowship@dcas.nyc.gov
For further information, please call (212) 386-6420 or email socialjusticefellowship@dcas.nyc.gov.
PLACEMENT DESCRIPTION FORM:

Return to the Apply for an Internship Home Page