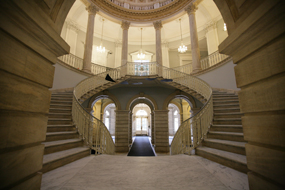 The Department of Citywide Administrative Services (DCAS) administers the Mayor's Graduate Scholarship Program (MGSP), an opportunity for full-time New York City local government employees (employed by a City agency) with undergraduate degrees to study at accredited colleges/universities in the metropolitan area.
Schools fund full or partial graduate scholarships through the Program. The scholarships are for City government employees to study, on their own, in areas such as business and public administration, policy analysis, law, education, engineering, nursing, public health, computer science, and social work.
2019/2020 Scholarship Year


Register for an Information Session
Attendance to an information session is not a prerequisite to apply for a scholarship. All applicants can send their request via the email mgsp@dcas.nyc.gov. Email confirmations will be sent to registrant.
| | | |
| --- | --- | --- |
| Date | Time | Location |
| Monday, October 22, 2018 | 5pm - 7pm | The David N. Dinkins Municipal Building 1 Centre Street, North Mezzanine |
Mayor's Graduate Scholarship Program
NYC Department of Citywide Administrative Services
One Centre Street, Room 2425
New York, New York 10007
mgsp@dcas.nyc.gov