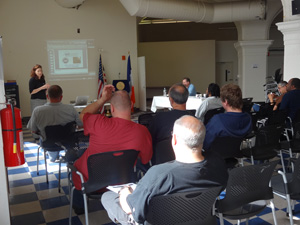 NYC Fleet at DCAS issues citywide rules for vehicle and fleet operations and supports agency training efforts relating to vehicles. The Drivers Handbook for all City Vehicle Operators is attached below.
The primary DCAS training program is the NY State Defensive Driving program. This six hour course focuses on preventive and safe driving and the rules of the road and can entitle successful participants to license points or insurance benefits. A class completion certificate lasts for three years.
For NYC fleet operators, you can get more information or get help enrolling in a DCAS or agency course in NY State Defensive Driving by contacting NYC Fleet.
NYC Fleet is also partnering with non-profits and the private sector to expand training for the City's mechanics. Recently, the National Biodiesel Board (NBB) provided 200 City mechanics with training in biodiesel equipment maintenance including certification from the National Institute for Automotive Service Excellence (ASE). GM, Cummins, Ford and others have also provided recent training to City repair staff. The City has also partnered recently with ASE to help certify City mechanics in many other technical areas.
For NYC automotive and fleet staff to learn more about training opportunities, please contact us.
General Fleet Policies and Materials
Fleet Safety Survey for City Fleet Operators
The Importance of Road Safety for Drivers

Forklift Safety