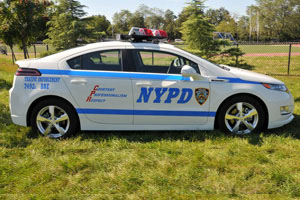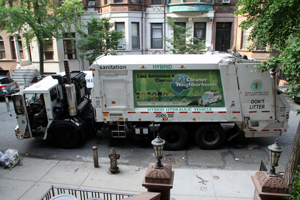 New York City's fleet is the greenest in the nation.
Electric Vehicles and Plug-in Hybrids: NYC Fleet operates over 1224 on-road electric vehicles (EVs) and plug-in hybrids. Full EVs include over 400 Nissan Leafs and over 80 Chevy Bolts, among others. We have over 600 additional off-road EV and solar units.
Electric Chargers and Solar Power : NYC Fleet is rapidly expanding our base of electric chargers to support our electric and plug-in hybrid vehicles. We have installed over 475 charging stations at city garages and parking locations around the city. We have deployed 37 solar carports from Envision Solar. These new carports allow EVs to be completely independent from the electrical grid and fossil fuel energy. We have partnered with city schools to provide both solar chargers and EVs to support education programs. Some other city equipment is also solar powered. The city is piloting programs to install chargers to support EV use by the public.
Hybrids: In addition to our plug-in hybrids, NYC Fleet has over 5500 hybrid vehicles in a variety of makes and models. We have been investing in hybrid vehicles for over 15 years now. Some hybrid models offer 50% better fuel economy than comparable conventional cars. The city also operates some hybrid diesel-electric trucks.
Biodiesel: NYC Fleet operates over 11,000 diesel vehicles. In 2007, we began piloting the use of biodiesel blends to reduce emissions. Now biodiesel blends are standard in all city fleet fueling sites. We look to improve our biodiesel blends by increasing the percentage of biodiesel and introducing renewable diesel. In accordance with federal and local law we use diesel particulate filters and diesel emissions fluid to further reduce emissions.
Natural Gas (CNG): NYC Fleet operates over 150 CNG vehicles, including some Sanitation trucks and sweepers, some passenger vans, and some Honda Civic sedans. We operate 3 CNG fuel sites to support this fleet.
The City has also made major strides to reduce fleet size, right-size vehicles, install tailpipe emissions reducing equipment, better analyze fuel use, and more. Look here for postings about NYC's continuing fleet sustainable efforts. For more information about NYC Fleet sustainability, please contact us.