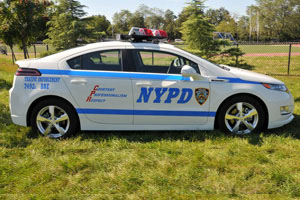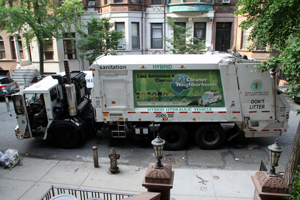 New York City's fleet is the greenest in the nation.
Hybrids: The City currently operates 5,562 hybrid or all electric units. The most common units are the Toyota Prius (2,570) and Ford Hybrid Fusion Sedans and Escape SUVs (1,806). Our hybrid fleet also includes 49 hybrid diesel-electric trucks, with 35 more on order. We operate one of the nation's largest fleets using these now proven technologies.
EV Plug-ins: The City also operates 612 plug-in electric vehicles and equipment units, including 103 Chevrolet Volts and 293 electric carts, a majority of which are operated by NYC Parks. We recently registered contracts for the plug in electric Ford Focus EV and Nissan Leaf EV. As Mayor Bloomberg presented in the 2013 State of the City address, our first order of 50 plug-in electric vehicles from these new contracts has now arrived. To support these plug in units, the City currently operates 117 EV charging stations for NYC Fleet units. By the end of the year, we will have added at least 30 more charging stations at agencies including Sanitation, Fire, DEP, Parks, NYPD, and DCAS.
Biodiesel: The New York City fleet is also a national leader in biodiesel use and has been working over the last eight years to introduce, test, train, promote, and expand the use of biodiesel in our complex and varied fleet. New York City operates over 9,000 diesel fleet units and equipment pieces. All of these operate on ultra-low sulfur diesel as required by Local Law 39 of 2005. Currently, over 70% of diesel fuel used by the City fleet is also blended with biodiesel.
Natural Gas (CNG): New York City has operated vehicles on natural gas since the early 1990s. The City owns and operates three CNG fueling sites, in Central Park, in Flushing Meadows Corona Park near the US Open Center and Citi Field, and a Sanitation fueling site in Queens.
The City has also made major strides to reduce fleet size, right-size vehicles, install tailpipe emissions reducing equipment, better analyze fuel use, and more. Look here for postings about NYC's continuing fleet sustainable efforts. For more information about NYC Fleet sustainability, please contact us.