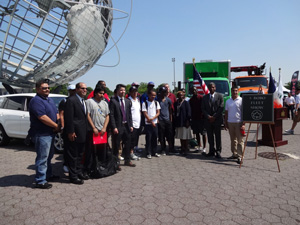 NYC Fleet has partnered with the Department of Education (DOE) to expand the Automotive High School Internship program. This program provides public high school students with valuable hands-on experience maintaining high-profile City vehicles, and the unique opportunity to learn from leading city fleet experts and professionals who service the largest municipal fleet in the United States. NYPD has played a lead role in this initiative.
The internships are supported by funding from the Federal Carl D. Perkins Vocational and Technical Education Improvement Act. Thanks to the active involvement of NYPD, FDNY, DSNY, Parks, DOT, and DCAS, we are now offering hands-on internships to over 50 students from public high schools at municipal garages citywide. The students learn to diagnose equipment, perform basic maintenance, and to understand fleet and claims management, shop equipment and organization. These paid internships for automotive students are offered year-round including during the summer.
Interns are paid for their work while receiving practical experience that will help pave the way to future careers in the automotive industry. Participating high schools include the Automotive High School, Thomas Edison Career & Technical Education High School, William E. Grady Career & Technical High School, and Tottenville High School. The internships are just one aspect of a growing relationship between NYC Fleet and NYC's Automotive High Schools. For more information on NYC Fleet internships, please contact us.
Please click here to see pictures from the internship program.