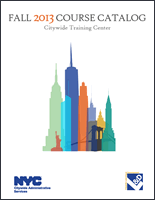 Fall 2013 Course Offerings

Citywide Learning & Development is the central source of training within New York City government for managerial, clerical, professional and technical employees. We are pleased to present our Fall 2013 Schedule and Course Catalog.

CTC Course Catalog
CTC Open Enrollment Application
---

Fall/Winter 2013 IT Course Catalog

The Citywide IT Training Program provides access to over 200 high quality technical training courses and 60 certifications from industry leaders such as Checkpoint, Cisco, Citrix, CIW, CompTia, EC-Council, Linux, Novell, Microsoft, Oracle, Project Management Institute and UNIX.
Click here for Course Catalog
---
Continuing Legal Education (CLE) for City Attorneys/Conflicts of Interest Seminar Series
In cooperation with the NYC Conflicts of Interest Board, the Citywide Training Center is pleased to offer a series of workshops focusing on Chapter 68 of the New York City Charter and the issues related to conflicts of interest. Continuing Legal Education (CLE) credit for participation is provided through the NYC Conflicts of Interest Board.
---
IT Technical Training Program
The Citywide IT Training Program provides access to over 200 high quality technical training courses and 60 certifications from industry leaders such as Checkpoint, Cisco, Citrix, CIW, CompTia, EC-Council, Linux, Novell, Microsoft, Oracle, Project Management Institute and UNIX.
---
E-Learning Self-Paced Courses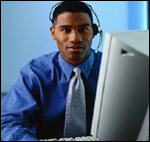 E-Learning allows employees to access Professional Development, Information Technology, and Computer Applications courses via the internet - without leaving the office. This state-of-the-art online course delivery program allows participants to take charge of learning - at their own pace - whether it's learning an entire new computer application or honing in on specific skill areas as a "refresher."
E-Learning courses are a quick and efficient way for users to build skills at their own pace right at their workstation via the internet. Users may take and re-take courses as necessary within their selected 90-day access period. Specific lessons within a course may be taken to achieve more concentrated learning in a particular area of coursework. Proficiency may be measured by taking the course assessment and course completion certificates are printable from the site. You may also earn continuing education units (CEU) and satisfy accreditation requirements where applicable.
Prior to submitting a supervisor approved application to the Citywide Training Center you must ensure that your office pc has access to Desktop e-Learning and passes the browser check at Browser Check. For a complete listing of course titles please visit the Desktop e-Learning website.
---
CUNY/DCAS Public Administration Program

The CUNY/DCAS Public Administration Program is offered in collaboration with the City University of New York's (CUNY) Joseph Murphy Institute for Worker Education and participating unions on both the undergraduate and graduate level. It is designed to provide an opportunity to earn college credits, improve communication and analytic skills and provide for expanded knowledge of government agencies, social services, labor relations and the legislative and budgetary process in the context of deepening the understanding of urban challenges.

Enroll at the undergraduate, graduate or post MA level:

- Earn a Certificate in Public Administration and Public Policy from the City University of New York and the NYC Department of Citywide Administrative Services (DCAS)
- Apply credits toward a bachelor's or master's degree
- Union tuition plans applicable
On-Line Master of Public Administration Inspector General Program (John Jay College) New
The Citywide Training Center (CTC) is the central source of training within New York City government and City agencies' resource of first resort when it comes to training and staff development services. Our facilities are located at 2 Washington Street in lower Manhattan, but we make agency "house calls" as well. The Center and its programs are part of the Bureau of Personnel Development in the Department of Citywide Administrative Services' Division of Citywide Personnel Services.

Citywide Training Center courses and other employee professional development programs are detailed on this page:
---
CTC offerings are specially designed to meet the training and development needs of managerial, supervisory, secretarial, clerical, auditing, procurement, professional, technical, and training personnel at all levels. CTC is committed to providing employees with state-of-the-art applications and public service best practices.

The CTC is committed to supporting agencies' efforts to use training to enhance the economy, efficiency and effectiveness of their operations. The Center's resources, services, and courses are available to develop, enhance and assist the City workforce in producing innovative programs and delivering effective services to the citizens of New York.

The CTC offers agencies a full curriculum of courses, workshops and seminars to meet the training and development needs of their managerial, supervisory, professional, and administrative staffs at all levels.

Faculty and consultants are drawn from government, universities, and the private sector. As practitioners of the skills they teach, trainers bring a wealth of experience to bear helping address agency-specific issues and situations.

All training programs can be customized to meet agency objectives, as well as location and time constraints.

CTC offers a wide range of courses designed to improve both individual and organizational performance:
--"Hassle-free" "fast-track" training service
--Low fees for high quality courses
--Courses designed specifically for City employees
--Instructors who specialize in working with the public sector and know City staff, systems and realities

In addition to course delivery, other CTC services include:
--Needs assessment
--Organizational development
--Team building
--Managerial/staff retreats

One-On-One Training
Need or want individualized, focused, private training for one or more employees?

One-on-One Training is specially designed for individuals who would benefit most from working one-on-one with a trainer, rather than attending a course with up to 25 people from their own agency or other agencies. This service provides participants with private, focused attention from a course content expert with years of experience as both a trainer and coach with public sector employees. The goal of the session is to deal with a specific issue with which the employee needs individualized assistance. This process is more intense than a traditional training experience – perfect for someone with a particular challenge that requires sensitive, private attention.

To arrange a day of One-on-One Training for employees from your agency (Agency-Specific course), supervisors identify up to six people who would benefit from individual attention/coaching on one of the Workplace Effectiveness, Communication, and Management & Supervision topics covered in the Citywide Training Center catalog and this addendum (for example, time management, supervision, conflict resolution, delegation, etc.). The individuals may have different issues related to the topic that they need to deal with, but the general topic must be the same for all the individuals.

The supervisor will notify the Training Liaison of an interest in scheduling a One-on-One Training. The Training Liaison will contact the Citywide Training Center.

Before the service can be scheduled, the Training Liaison must provide the CTC with a "plan for the day" - specific information relative to the scheduled participants' needs and the number of hours needed for each participant's session. The CTC will provide a topic expert to listen and advise each individual, either at your site or at the Citywide Training Center.
For more information, call: (212)-487-5600.

Cost: See course description in catalog and addendum.
Workplace Effectiveness
CTC Workplace Effectiveness courses provide the knowledge and skills needed to help employees function more productively in their agencies, divisions, and units. Courses are designed to assist all levels of staff develop and refine the project and people management skill sets necessary to address the multiple challenges that arise in City work environments. In these courses, participants broaden their repertoire of strategies, tactics, and techniques to improve workplace quality of life and individual and team productivity.

In addition to the courses listed in the catalog, CTC staff can work with supervisors, managers and program directors to develop new courses.

Communication
CTC Communication classes provide employees of all levels opportunities to broaden and improve their skills in written, oral and interpersonal communication. The focus is on providing participants with the skills and tools necessary to cultivate positive interactions with both internal and external customers. Telephone techniques, writing, listening skills and making effective presentations are just some of the areas covered.

Management & Supervision
Recognizing the critical role of managers and supervisors, the CTC Management & Supervision courses emphasize the use of leadership skills as strategic tools to realize an agency's mission and goals. Topics addressed in these classes include: team development and employee motivation, managing risks and reducing conflict, leading organizational change, setting direction, and shaping culture.

Technology Skills Program
The CTC provides City employees with a broad range of computer course offerings. Because agencies have different resources and are using different systems, all CTC computer courses are available in the latest version (Word XP) as well as older versions (for example, Word 2000 and 97) and can be taught on Windows XP, 2000, 98 or 95 platforms.

In addition to traditional classes, CTC offers:
Executive Seminars Half day Agency-Specific or Open Enrollment courses for three to six senior-level managers and professional staff

1-on-1 Sessions Two hour one-on-one office-based intensive, tailored sessions on specific procedures for senior staff and commissioners.

E-Learning courses accessible from your work location that would allow participants to learn a new computer application.
Auditing
City agencies must ensure that all internal audit staff comply with federally mandated Government Auditing Standards. To help City auditors meet this standard, the CTC offers an extensive curriculum of audit training courses. These courses are relevant to auditors' and audit managers' needs, and are tailored to the New York City government audit environment.

Continuing Education Credits

The Generally Accepted Government Auditing Standards requires auditors who are responsible for planning, directing, conducting, or reporting on government audits to complete at least 80 hours every two years of continuing professional education and training that contributes to the auditor's professional proficiency. At least 20 hours should be completed in any one year of the two-year period.

Individuals responsible for planning, directing, conducting substantial portions of fieldwork or reporting on the government audit should complete at least 24 hours of the 80 hours in subjects directly related to the government environment and to government auditing.

For CPAs, the new York State Board of Accountancy recognizes this training as an approved source of continuing professional education credit for licensing or certification purposes. Each 50 minutes of a program or training activity is recorded as one credit toward the 80-hour requirement. All courses are scheduled to provide eight hours of continuing professional education in each day of training.

Course Listing

Procurement Program
As one of the nation's largest public contracting entities, New York City is dependent on a procurement workforce with high-level skills and knowledge in all areas of the procurement field. Procurement classes are intended to increase the professionalization of procurement staff at all employment levels, to provide staff development opportunities that will lead to improved efficiency and productivity in City procurement, to encourage innovation in procurement, and to foster excellence in all aspects of the procurement function.

CTC procurement classes are offered under the auspices of the New York City Procurement Training Institute (PTI). The PTI was created by Mayoral Executive Order #38 and is overseen by the PTI Board, which includes representatives from the Department of Citywide Administrative Services (DCAS), the Mayor's Office of Contracts (MOC), and the Procurement Policy Board (PPB).
In addition to the wide variety of courses covering both general procurement concepts and City-specific issues and practices, special seminars are held several times a year on topics pertinent to the procurement profession via satellite transmission.
For more information about all the Citywide Training Center programs call (212)-487-5600.
---