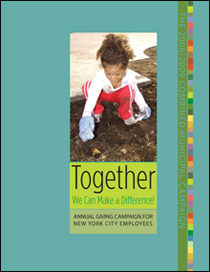 Interested in helping out? NYC Gives provides City employees with the chance to donate to qualified charitable organizations through convenient payroll deductions.



Open Enrollment for the 2015-2016 campaign year will take place late Spring 2015


For City Employees

The online brochure for the annual charitable giving campaign for city employees will be available at the start of the Open Enrollment period.

For Charitable Organizations

The City of New York annually seeks a Coordinating Agency and also Participating Agencies and Federations to join NYC Gives.