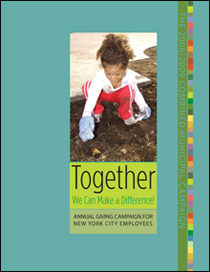 Interested in helping out? The Combined Municipal Campaign gives City employees the chance to donate to qualified charitable organizations through convenient payroll deductions.



The application deadline has been closed. These forms are posted for information purposes only.




For City Employees

The brochure for the annual charitable giving campaign for city employees is now available online.

Note: Disregard the printed deadline for returning pledge cards. Pledge cards will continue to be accepted until further notice.

For Charitable Organizations

The City of New York annually seeks a Coordinating Agency and also Participating Agencies and Federations to join the Combined Municipal Campaign.