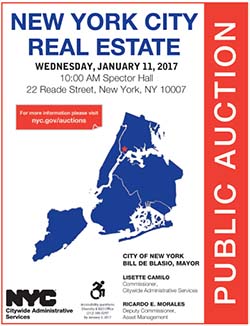 Thank you for your interest in the NYC Real Estate Public Auction! The Department of Citywide Administrative Services holds real estate auctions to sell surplus NYC real estate.
The next sales auction will be held on Wednesday, January 11, 2017. Click the link below to view the auction brochure.
We strongly urge prospective purchasers to carefully review the Auction Brochure prior to participating in the auction process. The auction process, including how the auction works and purchaser payment requirements are discussed in How the Auction Works; post-auction requirements, including assignments and payment of the Balance of the Purchase Price are discussed in After the Auction. Instructions & Forms are required for Purchasers. The Department of Citywide Administrative Services is located at 1 Centre Street, David N. Dinkins Municipal Building, 20th Floor, North.