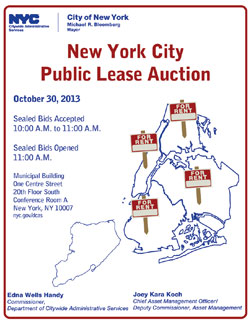 Asset Management is responsible for the management of the inventory of City-owned real estate, both buildings and vacant lots. In many cases, leasing is available for limited time periods because the City may have long term uses for the property or Asset Management does not have approval to lease the property long term. Asset Management does not have responsibility for residential buildings or apartment units.
Short-term leases have month-to-month terms. Typically, tenants rent these properties for parking for an adjacent home or business. In most cases, leases can be arranged directly with Asset Management Short-Term Leasing with rents ranging from under $100 to $5,000 per month. Short-term leases that have a rental over $5,000 per month must be offered through a Public Lease Auction.
Long-term leases with terms longer than one year are available on selected properties. Long-term lease sites must be offered through a Public Lease Auction.
Public Lease Auctions and/or Requests for Bids are held periodically. Sites are offered with terms and special use requirements specific to the unique nature of each property. Public parking lots, retail spaces, office spaces and vacant lots can be offered for lease.
The last lease auction was held on Wednesday, October 30, 2013. The brochure and bid packet from that auction are posted for informational purposes.