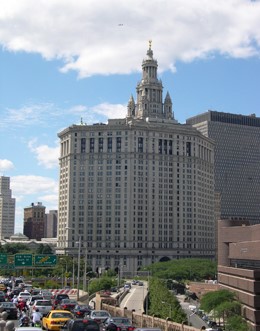 DCAS Asset Management is the real estate arm of the City of New York, which oversees City-owned office buildings, court buildings and commercial rental properties. In addition, Asset Management negotiates and administers City leases of private property. Acting as the real estate advisor for City agencies, Asset Management assists agencies with finding suitable and cost effective space for their operations. Through its authority to acquire real estate, Asset Management regularly works with agencies to acquire specific properties needed for City agency uses, either through purchase or lease.
Asset Management actively manages and operates approximately 55 City-owned court and office buildings totaling 15 million square feet. These buildings are located throughout the City and include City Hall, David N. Dinkins Municipal Building and Brooklyn Municipal Building, and each of the five Borough Halls. This line of service provides all necessary building services to keep these buildings fully functional and operational, including maintenance, custodial services, repairs and upgrades of building systems and equipment, as well as interior and exterior design, construction and renovation.
In addition, Asset Management is responsible for the City's 21 million square foot leased portfolio. Services provided for leased space include negotiation of lease terms, execution of legal documents, coordination of construction, renovation and relocation efforts and auditing of operating expenses.
Lastly, Asset Management actively administers a public auction program aimed at disposing of surplus properties with no City use to the highest bidder through sale or lease auction. When agencies consolidate or downsize, certain properties are declared surplus and are relinquished to DCAS. Asset Management oversees these properties in the interim, until a new City use can be identified or, if no uses are found, until they are deemed suitable for disposition.
Our Property Information Resource Page has links to various online resources that the City has available for public use to help with your inquiry.
FREQUENTLY ASKED QUESTIONS
BBL stands for Borough-Block-Lot. This is a parcel number system used to identify units of real estate in the City of New York. It consists of three numbers separated by dashes – the first is a single digit from 1 through 5 representing the borough; then a block number, up to 5 digits; and a lot number, up to 4 digits. For example, City Hall has a BBL of 1-125-1, otherwise noted as 1001250001.
There are two ways the City assigns its property to different agencies. An agency can have jurisdiction of a property, which means it is ultimately responsible for how it is used. An agency can also be assigned management of a property, which means that it is responsible for the day-to-day upkeep and use of the property. Many City-owned properties are under the jurisdiction and management of the same agency, but some are different.
To learn which City agency has jurisdiction or management of a particular property, please visit IPIS (Integrated Property Information System).
If the City-owned property is non-residential, contact DCAS at (212) 386-0335. If the City-owned property is residential, it is under the jurisdiction of the Department of Housing Preservation and Development. Call 311 and have them connect you to HPD or inquire with commercial leasing in HPD properties at (212) 863-7444.
DCAS sells surplus vacant land and some commercial properties owned by the City of New York through a public auction. Properties are selected for sale after a series of reviews and public approvals. Contact DCAS at (212) 386-0588 to request information on the next auction or get information online here.
The next auction has not been scheduled. Announcements will be posted on http://www.nyc.gov/auctions once an auction has been scheduled. Asset Management does not manage or sell residential buildings or apartment units.
Contact DCAS at (212) 386-0598
Refer to http://www.nyc.gov/liensale for the Department of Finance's processes for the annual tax lien sale. Consult this website for property tax information as well. For water bill payments or inquiries: Department of Environmental Protection, 718-595-7000 or nyc.gov/dep
Consult an attorney or call the New York State Mortgage Assistance Program (NYS-MAP) at 855-466-3456.