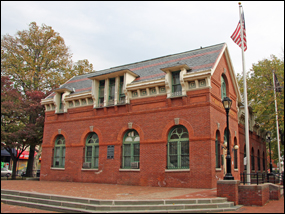 Staten Island Village Hall
111 Canal Street
Staten Island, NY 10304

Date Built: 1889
Architect: Paul Kuhne

"… a superb example of Victorian architecture."
-- NYC Landmarks Preservation Commission, in its 1968 designation decision
Village Hall is located on the corner of Wright and Canal Streets (Tappen Park) in Stapleton, on the northeast shore of Staten Island. It houses offices of the District Attorney, Department of Health and Mental Hygiene and other government agencies.

The Village of Edgewater was incorporated in 1889, and the building was built in that year as the Edgewater Village Hall. At the time, it was called one of the finest buildings on the island.
The building is built of red brick with stone trim, Romanesque Revival in style. It is T-shaped and has a squat, square tower at the entrance. There are keystone arched window openings with unusual transoms composed of a full circle and two half-circles. Curved dormer windows pierce the eaves. Paul Kuhne was the architect.
The Village Hall was the embodiment of the village of Edgewater and all municipal and civic activities were held here. The building stands out as a reminder of Staten Island's rural past, and is one of only two village halls built in Staten Island.

Staten Island Village Hall was designated as a New York City Landmark in 1968. It is also listed on the New York State and National Registers of Historic Places.