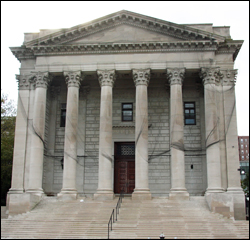 Staten Island Supreme Courthouse
18 Richmond Terrace
Staten Island, NY 10301

Date Built: 1913-1919
Architect: John Carrère and Thomas Hastings
The Supreme Courthouse of Staten Island is bounded by Richmond Terrace, Stuyvesant Place and Schuyler Street. It houses the Supreme Court, Surrogate Court and various other municipal offices.
This building was designed for use as the Richmond County Courthouse. The neoclassical style courthouse was inspired by Roman architecture, rather than the French style, usually favored by the designers, the architectural firm of Carrère & Hastings. (For information on the Staten Island Civic Center and its architects, see the Staten Island Borough Hall).
The L-shaped structure stands to the north of Borough Hall and is separated from it by a formal French garden, planned by the architects as a part of the courthouse design. The pediment temple front, a design that has come to be associated with justice, is supported by six giant Corinthian columns that project from the face of the building. The columns are set at the top of a long flight of steps.
The courthouse was built after John Carrère's death in 1911.

The Staten Island Supreme Courthouse is a designated New York City Landmark.