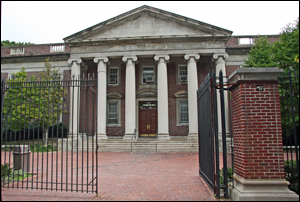 Staten Island Criminal Courthouse 
67 Targee Street
Staten Island, NY 10304

Date Built: 1930
Architect: Sibley & Fetherston
The Staten Island Criminal Courthouse is located on Targee Street between Purroy Place and Frean Street.
The building was originally designed to house the Municipal and Magistrate's Courts and was known as the Stapleton Courthouse. It was completed in 1930 at a cost of $325,000. The two-story brick Georgian Revival style courthouse has a grand entrance with a flight of steps that leads to a large pedimented portico supported by six Ionic columns. The tall first-floor windows have arched pediments while the smaller second floor windows have molded enframements. A parapet pierced by balustrades rises above the dentilled cornice which has a wide blank frieze.
The architects were Sibley & Fetherston. This building is one of three handsome, classically-inspired courthouses designed by the firm on Staten Island (See also Staten Island Civil and Family Courthouses.) Inside, the lobby has a Georgian Revival style cornice with supporting pilasters and wood wainscoting. The courtrooms have similar details, including wood paneling, molded doorways and a coved ceiling.