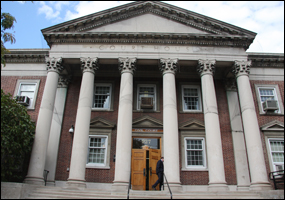 Staten Island Civil Courthouse
927 Castleton Avenue
Staten Island, NY 10310

Date Built: 1929
Architect: Sibley & Fetherston
The Staten Island Civil Courthouse is located on Bement and Castleton Avenues in West New Brighton. It houses the Civil Court and associated offices.
The building was designed for use as the Municipal and Magistrates' Courts. It was known as the West Brighton Courthouse.
This two-story brick Georgian Revival building has a grand entrance with steps leading to a pedimented portico supported by six Corinthian columns. The characteristic multi-paned first floor windows have triangular pediments, while the second windows have simpler molded enframements. A projecting modillioned cornice caps the facade.
On the inside, the lobby has a terrazzo floor and wood wainscoting. The courtrooms also have wood wainscoting as well as the original furniture and pedimented doorways.
The building was completed in 1929 at a cost of $275,000. The architects were Sibley & Fetherston. This building is the first of three handsome classically-inspired courthouses designed by the firm on Staten Island. The other two are the Staten Island Criminal Courthouse at 67 Targee Street and the Staten Island Family Courthouse at 100 Richmond Terrace. The firm also designed Faber Pool on Richmond Terrace. Little is known about Joseph Sibley. Charles E. Fetherston was one of the designers of the atom bomb plant at Oak Ridge, Tennessee during World War II. His brother was Judge William T. Fetherston, who had also been Democratic Committee chairman of Staten Island. Another brother, John, was City Commissioner of Street Cleaning. The firm was in practice from at least 1920 to 1940.