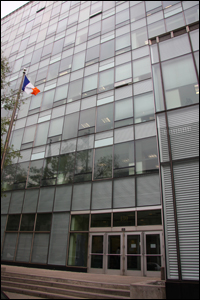 Mark A. Costantino Judicial Center
126-130 Stuyvesant Place
Staten Island, NY 10301

Date Built: 1961
Architect: Unknown
Located directly behind the Staten Island Supreme Courthouse and Borough Hall, 130 Stuyvesant Place is also referred to as the Staten Island Judicial Center. The building houses the Staten Island County Clerk, District Attorney and other court-related offices.

In September 2009, a plaque was unveiled for the building's lobby, dedicating the Judicial Center in memory of Mark A. Costantino (1920-1990), a prominent local attorney and jurist who in 1971 became the first Staten Islander to be appointed as a U.S. District Judge.