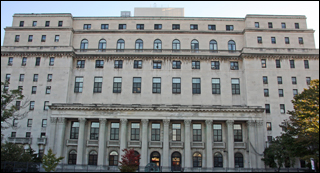 Queens Supreme Courthouse
88-11 Sutphin Boulevard
Jamaica, NY 11435

Date Built: 1936
Architect: Eccles & Knowles
The Queens Supreme Courthouse is located on the block bounded by Sutphin Boulevard, 89th Avenue, 148th Street and 88th Avenue. It currently houses the Supreme Court, Surrogate Court and County Clerk. It was originally called the Queens General Court.
The building is set back from the street and reached by broad steps. It is a neoclassical structure and has an Alabama limestone facade. While the recessed entrance is marked by a Corinthian colonnade, the rest of the building is modern in style, with sheer walls and no window trim. There is a modest dentillated cornice. The architects worked with the Borough President and a committee of the judiciary on the designs, which were called Federal style by the Department of Public Works. On the drawings, Alfred H. Eccles was listed as the architect and William W. Knowles as the associated architect. William W. Knowles also designed the classical US Post Office in Flushing.
On the inside, the vestibule and lobby walls are faced in different colored marbles and there is a grand double staircase leading to the first-floor courtroom. The building was a WPA project and cost about $5 million, with over $2 million outlayed by the Federal government. Original sculpture above the doors and a 1942 mural at the grand staircase depict various aspects of divine and secular justice. A 1998 sculpture added to the building's front courtyard shows the judicial process and has Queens County references.