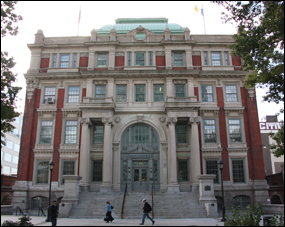 Long Island City Courthouse
25-10 Court Square
Long Island City, NY 11101

Date Built: 1872-1876; 1904-1908
Architect: George Hathorne; Redesign by Peter M. Coco in 1904.
The Long Island City Courthouse is located near the corner of Thomson Avenue and Court Square.
In 1870, before the 1898 consolidation with New York City, the Queens county seat moved from Jamaica to the newly-formed township of Long Island City, which was near all of the train lines. Long Island City was made up of the towns of Astoria and Newtown. Abram Ditmars, the first mayor, had the streets surveyed and paved, brought in a pure water supply and established equitable tax assessments and a regular police force.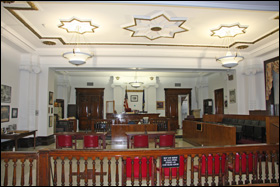 The Long Island City Courthouse was built between 1872 and 1876, with delays, scandals and cost overruns. At two-and-a-half stories, built of brick and granite in the French Second Empire style, it became one of the most important buildings in Queens. It was designed by Massachusetts architect George Hathorne. (Hathorne designed Walker Hall at Amherst College, the largest building on campus when it was built in 1870. That building was rebuilt after a fire in 1882 and was torn down 80 years later in 1962.)
The Long Island City Courthouse was gutted by a fire in 1904 and Peter M. Coco was selected to redesign it. A prominent Long Island City architect who trained at the Cooper Institute, Coco designed churches, residences and commercial buildings in the area. Using the foundations and original walls, he added two stories and stripped the building of its then-outmoded ornament, transforming it into a neoclassical style courthouse. He added projected paired Ionic columns to each side of the entrance, which support small balconies. Each has a small helmeted head between the scrolls at the top of the column. The two-story-high entrance is arched, with two dates in the spandrels: '1874' and '1908.'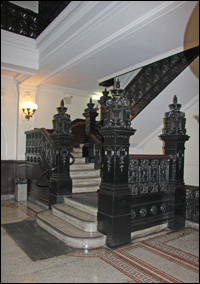 On the inside, a grand marble staircase rises up to wood-paneled hallways and courtrooms on three floors. There is a double-height, skylighted courtroom on the third floor. Wooden door frames and decorative plaster ceilings maintain the classical style of the exterior.
A parking garage built at the rear of the courthouse in the late 1980s, designed by Skidmore, Owings & Merrill, replaced a jail that had been built after the 1908 reconstruction.
Notable trials have taken place in this courthouse, including the 1927 murder trial of Ruth Snyder and her lover Henry Judd Gray. It was here that the bank robber Willie Sutton is said to have answered the question, "Why do you rob banks?" with his famous answer "because that's where the money is." The building was the setting for the movies, "Manslaughter" (Cecil B. DeMille) and "The Wrong Man" (Alfred Hitchcock).

The building was designated as a New York City Landmark in 1976. It is also listed on the New York State and National Registers of Historic Places.