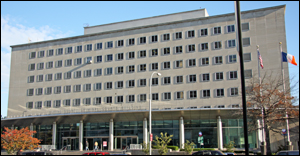 Queens Criminal Courthouse
125-01 Queens Boulevard
Kew Gardens, NY 11415

Date Built: 1956-1961
Architect: Alfred Easton Poor & William Gehron
The Queens Criminal Courthouse and prison occupies a 5.4 acre site bounded by Queens Boulevard, Hoover Avenue, 132nd Street and 82nd Avenue.

The building is located parallel to Queens Boulevard, but set back with a landscaped mall, and houses the facilities of the Criminal Court, Criminal Term of Supreme Court, offices of the Departments of Probation and Correction, and Offices of the District Attorney.

The Queens House of Detention for Men is located at the rear of the site. It is equipped with cells and dormitories, and provides occupational activities areas, medical and dental clinics, a roof recreation area, gymnasium, chapel, library and lawyer's consultation rooms.

This Modern style structure has an H-shaped plan, with the Court on one wing connected to the House of Detention on the other. A recessed entrance runs nearly the width of the building, while the upper windows project slightly from a limestone and brick facade. Along with the adjacent 1941 Queens Borough Hall, the Criminal Courthouse defines the Civic Center as an enclave of modern architecture.
The building was designed by William Gehron and Alfred Easton Poor. With other architects, Gehron also designed Queens Borough Hall and Thayer Hall at West Point. Alfred Easton Poor, a modern architect, also designed the Javits Federal Office Building (26 Federal Plaza) at Foley Square in Manhattan. Construction was done in two phases, starting in March 1956. It was completed in 1961 at a cost of $21 million.