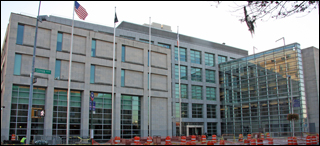 Queens Civil Courthouse
89-17 Sutphin Boulevard
Jamaica, New York 11435

Date Built: 1997
Architect: Perkins Eastman
The Queens Civil Courthouse, completed in 1997, is composed of limestone, granite and glass. The building has two wings and a common glass-encased lobby. A public plaza on Sutphin Boulevard helps unify this building with the older Supreme Courthouse across the street. The building won awards for design excellence in 1994 from both the Queens Chapter and New York State section of the America-Institute of Architects.
The Court houses the Civil Court, Small Claims Court, and Landlord/Tenant Court. There is also an auditorium that seats 230 people for jury selection.