Queens Borough Hall
120-55 Queens Boulevard
Kew Gardens, NY 11424
Date Built: 1940
Architect: William Gehron and Andrew J. Thomas

Queens Borough Hall is located on the north side of Queens Boulevard and is bounded by Union Turnpike, 126th Street and 82nd Avenue. It houses the Office of the Queens Borough President and other City offices and court space.

This building was built in 1940 to house the Queens Borough President's office and to consolidate other Queens municipal offices under one roof.  At its opening, it also housed a post office and traffic court, an indication of the designer's intention to have the building serve as a center of civic life.

Planned during the Depression, ensuring a low construction cost was a major design issue, to the point that elevators were eliminated from the final plans. At a final cost of $1,648,000, the building was built in just nine months.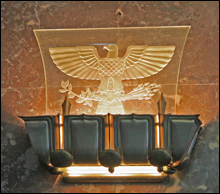 This long, low, three-and-one-half story brick building has a central entrance marked by angular columns. There is a simple stone cornice and flat window surrounds. The building is in a very austere classical style, referring to the modern style popular at the time.

It was designed by William Gehron and Andrew J. Thomas. William Gehron was responsible, with Alfred Easton Poor for the Criminal Courthouse nearby. Earlier, as part of the firm of Gehron and Ross, he designed the Jewish Theological Seminary in Manhattan and in 1958, his firm Gehron & Seltzer designed Thayer Hall at West Point. Andrew J. Thomas was well-known for his residential work, designing a number of the original apartment buildings in Jackson Heights, as well as the model Dunbar Apartments in Harlem.

As Queens County's first dedicated Borough Hall, the building symbolizes the growth of Queens from a collection of rural villages to a bustling urban center. The horizontal, clean-lined Borough Hall, along with the modern Criminal Courthouse, define the Queens Civic Center. The Queens Borough Hall won a design award from the Queens Chamber of Commerce in 1940.