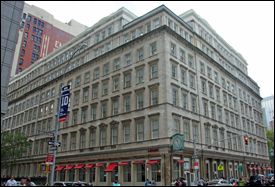 The Sun Building
280 Broadway
New York, NY 10007

Date Built: 1845-1846
Architect: French & Snook

"…one of the most influential buildings ever erected in New York City …"
-- NYC Landmarks Preservation Commission
The Sun Building at 280 Broadway, is located on the east side of Broadway between Chambers and Reade Streets. With the important exception of City Hall, it is the oldest of the City's buildings that DCAS manages. Now a seven-story building, its original five-story section, at Broadway and Reade, was completed in 1846. (This was just ahead of 209 Joralemon Street - then Brooklyn City Hall, and now the Brooklyn Borough Hall - which was under construction from 1845-1848).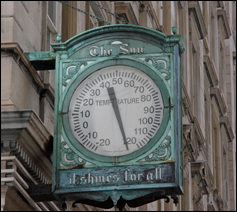 The former A.T. Stewart Store was one of the most influential buildings ever erected in New York City, as its style, materials, use, and location helped determine the course of architecture and commerce in the City. In 1846, Alexander Turney Stewart opened New York's first department store. Located on the corner of Broadway and Reade Street, the store inaugurated the commercial development of Broadway north of City Hall. As the first Italianate commercial building in New York, it established what would become the style of choice for hundreds of stores and warehouses erected through the succeeding decades. In addition, the store was the first major commercial structure faced with Tuckahoe marble, a material that would later become common on such buildings; it was innovative also in its use of imported French plate glass for the ground-floor windows. The store expanded along Broadway, Reade Street, and Chambers Street, with three-bay modules echoing those of the original design (the final bays were built in 1884). By the early 1850s, cast iron was employed on the ground floor to support the upper walls. The building served as Stewart's retail store until 1862, when it became a warehouse. The sixth and seventh floors are 1884 additions (the seventh-floor corners were added in 1921), built when the store was converted into offices. [The Guide to New York City Landmarks]
In 1917, the New York Sun Newspaper bought the building, giving it the name by which it is referred to today.
The City took title to the building in 1966 with the intention of demolishing it, as part of the then-planned Civic Center development. That plan was later set aside. In 1995, the City utilized a unique public/private initiative to begin to restore the entire building. Since 280 Broadway is the only building in the DCAS portfolio that contained extensive retail areas on the street level and second floor, the City worked with a private developer to completely renovate the interior and to preserve the retail portions. The renovation was completed in 2002. Retail tenants had already moved into the first and second floors, and the City's Department of Buildings now occupies the upper-level floors.

The Sun Building is a designated New York City Landmark.