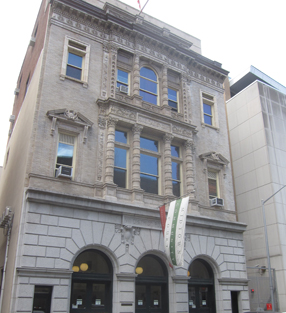 Midtown Community Court
314 West 54th Street
New York, NY

Date Built: 1894-96, Renovated 1968
Architect: John H. Duncan

The Midtown Community Court building at 314 West 54th Street is located between 8th and 9th Avenues in Midtown Manhattan. The six-story building was originally constructed in 1894-96 as the Seventh District Police Court and Prison and the Eleventh Judicial District Courthouse. The prison facing 53rd Street was removed during a 1968 renovation, and an annex was added.

The courthouse is an example of the imposing small-scale civic buildings erected throughout New York City in the late 19th century. For the limestone and tan-colored brick structure, architect John H. Duncan employed Renaissance forms ornamented with terra-cotta detail incorporating symbols of justice.

The Midtown Community Court opened at the building in 1993 to offer an alternative adjudication process for quality-of-life offenses. A non-profit theatre company is also located in the building.



The building was designated a New York City Landmark in 1989.

Return to the Public Buildings Home page