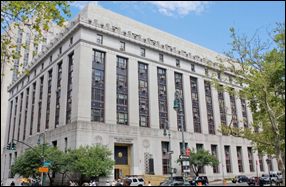 Louis J. Lefkowitz State Office Building
80 Centre Street
(141 Worth Street) 
New York, NY 10013

Date Built: 1928-1930
Architect: William Haugaard
The Lefkowitz Building is adjacent to Foley Square and is bounded by Worth, Centre, Leonard and Baxter Streets.   It houses offices of the Manhattan District Attorney and various court offices.  

The block-long building has nearly 700,000 square feet of office space in its nine stories, plus penthouse and basement levels.  It is constructed of Maine Coast granite.  The Centre Street lobby is decorated in an elaborate Art Deco Egyptian design.
The building opened in 1930 as a central home for state government offices in Lower Manhattan. In 1984, it was renamed to honor Louis J. Lefkowitz, New York State's longest-serving Attorney General. The building was transferred to City management in 2002.
The Office of the City Clerk and its Manhattan Marriage Bureau moved to the building in 2009 from the Manhattan Municipal Building. The Clerk's Office is reached through a separate entrance at 141 Worth Street.
William Haugaard, state architect, designed 80 Centre Street under a height restriction so that it would not overshadow the nearby courthouses and symmetry of Foley Square. It was constructed by Cauldwell Vingate Company at a cost of $6 million.
The new building was greeted with great fanfare at a groundbreaking ceremony on December 17, 1928.  The band played "Sidewalks of New York" as Governor Alfred E. Smith laid the cornerstone containing a time capsule with records, newspapers and photographs of that day.

Return to the Public Buildings Home page