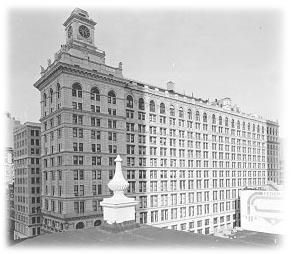 Clock Tower Building
346 Broadway
New York, NY 10013

Date Built: 1894-1898
Architect: Stephen D. Hatch / McKim, Mead & White
The Clock Tower Office Building, originally the home office of the New York Life Insurance Company, is bounded by Broadway, Leonard Street, Lafayette Street and Catherine Lane.
The New York Life Insurance Company moved to Madison Square in 1927. The Clock Tower continued to be used as an office building, housing some City agencies as early as 1939. The City of New York bought the building in 1967 and moved the Criminal Court, Summons Part there, along with several City agencies.The building was sold in 2013 as part of the Civic Center Plan, and is now privately owned, with the City as a tenant.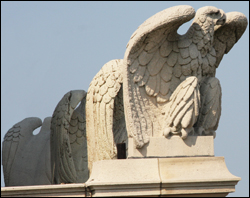 One of New York's older life insurance companies, New York Life erected a headquarters building at the Broadway end of the current site in 1868-1870. In 1894, Stephen Decatur Hatch was commissioned to extend the building eastward. Shortly thereafter he died, and the commission was taken over by McKim, Mead & White. Hatch's rear extension was built, but the company then decided to replace its earlier building. The elevations facing the narrow side streets continue Hatch's design, while McKim, Mead & White's Broadway frontage is a flamboyant palazzo-like pavilion crowned by a clock tower. The building retains many of New York Life's original interior spaces, including a marble lobby, a 13-story stair hall, a banking hall, executive offices, and the clock tower machinery room. [The Guide to New York City Landmarks]

The Clock Tower Building is a designated New York City Landmark, with both the exterior and parts of the interior landmarked. It is also on the New York State and National Registers of Historic Places.

Return to the Public Buildings Home page