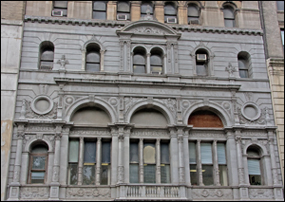 Home Life Building
253 -256 Broadway
New York, NY 10007

Date Built: 1892-1894
Architect: Napoleon Le Brun & Sons; Harding & Gooch
The Home Life Building is located on Broadway and Murray Streets. It is actually two attached buildings combined into one internally.
The corner building, 253 Broadway, was built by the Brooklyn-based Home Life Insurance Company, which had a branch office at the site since 1866.
The company held a competition for the design of a new Manhattan office in 1892. The result was Pierre Le Brun's Renaissance-style marble-clad building, an early steel-skeleton-framed skyscraper. The building is a fine example of the tripartite expression of high-rise design, with its ornate arcaded base, simple shaft, and impressive pyramidal crown. Adjacent to the former Home Life building is Harding & Gooch's Postal Telegraph Building, erected for a major competitor of Western Union. In 1947, Home Life purchased the neighboring structure and connected the two buildings internally. [The Guide to New York City Landmarks]

The building is a cooperative, owned jointly with the City, which houses various offices on the upper floors. The basement and street levels are privately owned.



The Home Life Building is a designated New York City Landmark.

 Photo by: Ralph Selitzer, DCAS