What is Diversity and Inclusion to the City of New York?
"Equality and inclusion will be at the forefront of how we apply the civil service system to our employment practices. DCAS will work with agencies to provide the most critical resources they need to plan for future employees. We will work to ensure that employment candidate pools are inclusive, selections are equitable and that current employees are valued and developed."
- Stacey Cumberbatch, DCAS Commissioner
"Differences are to be valued. Compliance, alone, is a required action, not a value. The City of New York values all our employees - they are our greatest asset."
- R. Fenimore Fisher, Chief Diversity & EEO Officer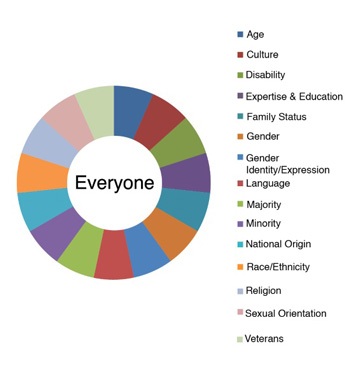 Everyone
No two people are the same. Diversity is the inclusion of people that are different. The power of diversity is that we can use multiple opinions, cultures and backgrounds to drive our best work.
Business Case
Cultures that ignore diversity and inclusion invite lower productivity, higher absenteeism, and higher turnover resulting in higher costs. A diverse and inclusive organization receives increased productivity, reduced turnover, sustainable leadership and a brand and legacy of relevance to the communities it serves.