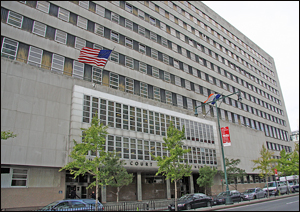 Brooklyn Supreme Courthouse
360 Adams Street
Brooklyn, New York 11201

Date Built: 1958
Architect: Shreve, Lamb and Harmon.

The Brooklyn Supreme Courthouse is located on Adams Street between Joralemon and Johnson Streets. It also houses the Registrar's Office, County Clerk, and Surrogate's Court.

Construction on the Supreme Courthouse began in 1955. This structure replaced the Supreme Courthouse at Joralemon and Fulton Streets which was built in 1865 and demolished in the 1950s - 60s. The new building was considered, at the time, to be a major addition to the Civic Center. This 11-story structure is steel-framed and clad in limestone. The windows in the Modern style building are set into horizontal bands and the entrance is accentuated by a large, two-story, multi-paned window above the entrance. Construction costs were over $15 million. The interior lobby has marble walls and the courtrooms are wood-paneled. The architects for the building were Shreve, Lamb & Harmon, best known as the designers of the Empire State Building.
This courthouse, along with the Brooklyn Family Courthouse, represents the 1950s Modernistic plans to transform the Brooklyn Civic Center.