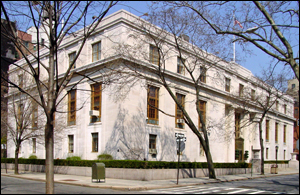 Brooklyn Appellate Courthouse
45 Monroe Place
Brooklyn, NY 11201

Date Built: 1936
Architect: Slee and Bryson
The Appellate Courthouse is located on the corner of Monroe Place and Pierrepont Street in the Brooklyn Heights Historical District. It currently houses the Appellate Division of the Supreme Court, Second Judicial Department. It serves 10 New York Counties, making it the most active Appellate Court in the United States (in terms of volume).

This austere classical courthouse is three stories high and clad in limestone with a granite base. Two fluted Doric columns mark the entrance; the third floor has a stepped parapet and rondels with relief carving. The bronze doorway and ornamental grillwork over the windows are particularly notable on this discrete facade.
Completed in 1937 at a cost of $1 million, the building was designed by the Brooklyn architects Slee & Bryson. John Bay Slee (1875-1947) and Robert H. Bryson (1875-1938) worked extensively in Brooklyn from 1905 to 1938. The firm designed the Georgian Revival style landmarked Albemarle Terrace in Flatbush and the nearby Clark Lane Apartments. They were particularly known for their residences in such neighborhoods as Prospect Park South, Fiske Terrace, Crown Heights, and Prospect-Lefferts Gardens.
The classical interiors, including lighting fixtures and marble walls, are remarkably intact. The two story entrance lobby with its coffered vaulted ceiling is imposing but light and airy. There is extensive decorative bronze work on the doors, elevators, railings and vents.
Located in Brooklyn Heights, the courthouse's low height and restrained classical details allow it to harmonize with the other nineteenth century historic buildings in the area.