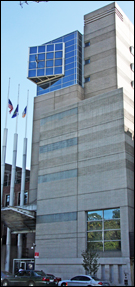 Bronx Housing Courthouse
1118 Grand Concourse
Bronx, New York 10451

Date Built: 1997
Architect: Rafael Vinoly

Located on 1118 Grand Concourse and bounded by 166th and 167th Streets, the Bronx Housing Court is part of the Grand Concourse Preservation District. Rafael Vinoly Architects describes it as follows: "Along the Grand Concourse, there are several buildings of civic importance. The new Courthouse participates in a dialogue with these buildings, as well as responds to the geometry and volumetric configurations of the immediately adjacent buildings. The Courthouse also respectfully adapts to the street wall height of its residential neighbor to the South." The building is clad in sandstone and roman brick on concrete masonry unit backup. An aluminum and glass curtain wall is used to create monumental openings into the public areas or to clad special functional elements.