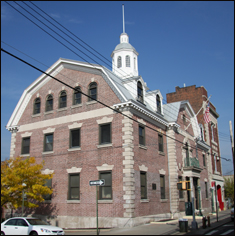 Neighborhood Government Building
4101 White Plains Road
Bronx, NY 10466

Date Built: 1903
Architect: Unknown
The Neighborhood Government Building is located at 4101 White Plains Road in the Bronx. Formerly the 47th Precinct station house, the Bronx Neighborhood Government Building was assigned to DCAS's predecessor agency, the Department of General Services, in 1973. It now houses various City agencies and Community Board 12. The one-story Carriage House at the rear, which once housed the Precinct's horses, was converted into a community multi-service center. This three-story brick building was constructed in 1903.