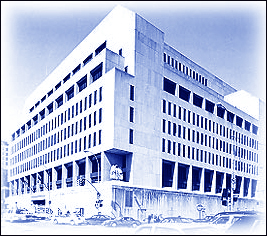 Bronx Family-Criminal Courthouse
215 East 161st Street
(900 Sheridan Avenue)
Bronx, NY 10451

Date Built: 1973-1977
Architect: Harrison and Abramowitz

The Bronx Family-Criminal Courthouse is located on the north side of East 161st Street between Sheridan and Sherman Avenues. It houses the Family Court, Criminal Court and their associated offices, the District Attorney, and offices of the Departments of Probation, Human Resources, Corrections, and NYPD.

The building was designed by the architectural firm of Harrison and Abramowitz and was completed in 1977 at a cost of $31,610,000.