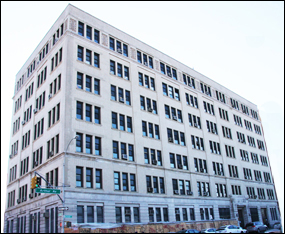 Bergen Building
1932 Arthur Avenue
Bronx, NY 10457

Date Built: 1916
Architect: Walter Martin
The Bergen Building is located on the northwest corner of Arthur and Tremont Avenues. It houses offices of a number of City agencies, including offices of the Departments of Housing Preservation and Development, Buildings, Environmental Protection, and Finance. Community Board 6 is also located in this building.
The Bergen Building was originally designed by Walter Martin in 1916, and was reconstructed by Thomas C. Dunn in 1940. The original cost of construction was $370,000.