DCAS Diversity & Inclusion Statement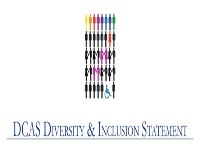 In 2012, DCAS established the Executive Diversity and Inclusion Council to align diversity and inclusion goals with our core values, organizational structure and strategic objectives.
Read More
D&I Workshop for City of New York EEO and HR Leaders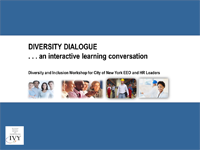 CDEEO hosted an event titled, "Diversity and Inclusion Workshop for City of New York Leader." on December 6, 2012. The workshop will be facilitated by Ivy Planning Group, a full service consulting and training firm that specializes in EEO, diversity, inclusion, leadership and organizational change. The full day interactive workshop is designed to give EEO Officers – the skills needed to understand the EEO, diversity and inclusion journey, and their critical role in leveraging these opportunities for the agency's success.
Ivy Planning Group (www.ivygroupllc.com) is a full service management consulting and training firm, providing strategy, planning, change management and leadership development with a focus on diversity as a workforce, workplace and marketplace opportunity.
Conflict Resolution: Achieving Best Practices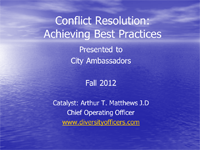 CDEEO hosted two sessions titled, "Conflict Resolution: Achieving Best Practices," on October 10 and November 28, 2012 These one-day workshops provided tools and strategies for EEO professionals to enhance how to decompress, deflect and disarm conflict at their agencies and how they could become conflict resolution "ambassadors" who execute best practices.
Arthur T. Matthews J.D., Chief Operating Officer and principal partner of Matthews & Matthews Consulting (diversityofficers.com) was the presenter. Mr. Matthews has extensive experience in conflict resolution and has provided training to OATH administrative law judges.
Diversity and Equal Employment Opportunity Basic Training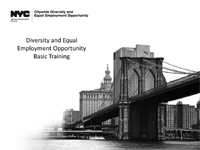 CDEEO conducted a four-day Diversity and EEO Basic Training course on November 15, 16, 19, and 20, 2012. This training provided a current, in-depth review of material that will enable EEO professionals to carry out effectively their responsibilities under their EEO Policy. Specifically, the training included the following topics: diversity and inclusion, protections and responsibilities under EEO laws and the City's EEO Policy; theories of discrimination; significant legal cases involving EEO; complaint and reasonable accommodation procedures; relevant Civil Service laws, rules and examinations, gender equality, the role of the Equal Employment Practices Commission, the Citywide Equal Employment Opportunity Database System (CEEDS), and diversity and EEO annual agency plans.
Training on Ensuring Fair Employment for Applicants with Criminal Records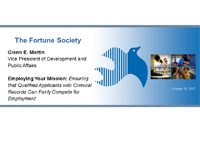 CDEEO and Human Capital lines of service hosted a training on October 19, 2012, presented by Glenn E. Martin from the Fortune Society entitled "Impacting Your Mission: Ensuring that Qualified Applicants with Criminal Records Can Fairly Compete for Employment".
This training focused on building the cultural competence of EEO and Agency Personnel Officers by providing guidance on the fair consideration and hiring of qualified applicants who are formerly incarcerated and/or in recovery. The training began with a focus on "Criminal Justice 101", which is meant to help participants gain a basic understanding of how defendants typically flow through the criminal justice system from arrest to disposition. There was dialogue concerning the practical application of state and local anti-discrimination laws, as well as Federal US EEOC Guidelines on Arrest and Conviction Records. The training also included information on many of the collateral consequences and civil legal barriers (housing, voting, public benefits, education, etc.) associated with criminal records, which impact a person's ability to seek and maintain employment, as well as the practical barriers and stigma faced by people who have a past criminal history.
Disability Mentoring Day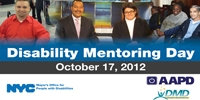 CDEEO coordinated DCAS participation in Disability Mentoring Day (DMD) on October 17, 2012. The Mayor's Office for People with Disabilities spearheaded the event citywide. The event aimed to create opportunities by developing relationships between students and jobseekers with disabilities and potential employers-mentors. This year, in honor of the late Commissioner Matthew P. Sapolin, New York City has been chosen for the 2012 DMD National Launch. During the event at DCAS, eight mentees were able to learn about the different services DCAS provides, as well as the type of work performed by the 13 DCAS employees who volunteered to be mentors and/or committee members. View photo gallery.
DCAS's Chief Diversity and EEO Officer Presented at Diversity Inc.'s Event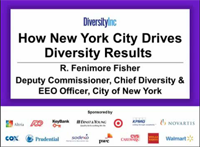 DCAS's Chief Diversity and EEO Officer, R. Fenimore Fisher, provided a presentation on "How New York City Drives Diversity Results?" at the DiversityInc.'s Diversity-Management Best Practices From the Best of the Best, held on Oct. 11–12, 2012. His presentation can be viewed on YouTube.
Fourteen CEOs and senior executives shared best practices on how accountability for diversity management results improve engagement and innovation, often resulting in higher market share through learning sessions and panels on diversity management leadership. They also shared how their personal passion and commitment to diversity have become key factors in making strategic business decisions. In addition, they also discussed how their commitment to diversity has helped them gain support within senior leadership and generated significant and measurable results in workforce diversity. In some instances, their commitment to diversity helped improved the organization's market share.
Diversity Inc.'s Senior Vice President and Executive Editor Barbara Frankel presented exclusive advice on what companies need to do to improve their Diversity Inc.'s Top 50 rank.
DCAS's Chief Diversity and EEO Officer attended Diversity and Inclusion Colloquium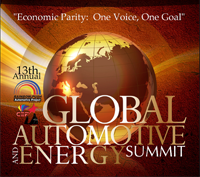 On October 2 to 4, 2012, executives, entrepreneurs, suppliers, dealers, consumers, government and elected officials, advertising agencies, automotive manufacturers, media outlets attended the 13th Annual Global Automotive & Energy Summit sponsored by the Rainbow PUSH Coalition and Citizenship Education Fund. This year's theme, "Economic Parity: One Voice, One Goal," discussed strengthening and creating opportunities in the automotive and energy industries for people of color.
DCAS's Chief Diversity and EEO Officer, R. Fenimore Fisher, was the moderator at the Diversity Colloquium/HR & Succession Peer-to-Peer Roundtable Discussion "What's Next? Filling the Pipeline" at the Summit. Cross-industry Human Resources Executives discussed their successes and challenges and share best practices around recruiting, retaining and promoting diverse employees to create a better community, workplace and world.
Ms. Marilyn Stephens of the U.S. Census Bureau provided a presentation while the roundtable spokespersons were composed of the following:
Capt. Kenneth Barrett, chief diversity officer, General Motors
Mike Beamish, executive vice president Human Resources, Volkswagen of America
Marc Burt, asst. vice president, Office of Inclusion & Diversity, American Honda Motors
Craig Gruzca, general manager, Human Resources, Toyota Motor Engineering & Manufacturing, NA
Machelle Williams, general manager of Organizational Development and Diversity, Human Resources, Volkswagen of America
Georgette Borrego-Dilworth, director of Talent Acquisition & Diversity, Chrysler Group
Ralph Moore, president, Ralph Moore & Associates
Effective Complaint Investigations and How to Handle Challenging Situations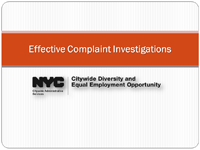 CDEEO conducted two training sessions on "Effective Complaint Investigations and How to Handle Challenging Situations" in May and September 2012. These one-day training workshops provided specific guidance on effective EEO complaint investigations through appropriate preparation, conducting interviews, assessing credibility and writing investigative reports. The training also provided information on how to handle difficult workplace situations. Guest presenters came from the New York City Commission on Human Rights and the U.S. Equal Employment Opportunity Commission.
Transgender Awareness Training: Trans People in the Workplace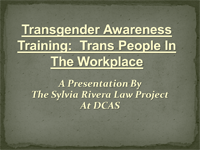 Citywide Diversity and EEO joined Human Capital to host a "Transgender Awareness Training," on June 26, 2012. Commissioner Edna Wells Handy welcomed the participants. The training covered terminologies, myths and issues for transgender, intersex, or gender non-conforming individuals. The training also included role-playing exercises, discussions and tips on being an ally and structural changes when working with transgender employees and those who may be in the process of transitioning. Trainers from the Sylvia Rivera Law Project provided the training.
The Sylvia Rivera Law Project is an organization that works to guarantee that all people are free to self-determine their gender identity and expression, regardless of income or race, and without facing harassment, discrimination, or violence.