IMPORTANT: DCA does not mediate: 
Complaints about home improvement contractors working for the NYC Rapid Repairs program
Complaints between businesses
Complaints about transactions or work that occurred outside New York City
Complaints about problems more than three years after they occurred
Complaints about online auctions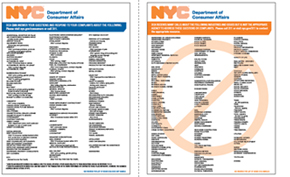 DCA created a Referral List to clarify which issues we handle and which issues we do not handle. Please review this referral list before you submit a complaint to DCA. Submitting your complaint to the correct agency at the outset will save you time. 

Return to File a Complaint