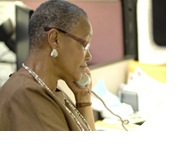 Once DCA receives your complete complaint, a mediator will contact you. A complete complaint includes a description of the problem as well as back-up documentation.
After speaking with you, the DCA mediator will send a copy of your complaint to the business named on the complaint form.
---

If DCA gets no response from the business within one week, the DCA mediator will call the business to discuss the case. By law, the business has 20 days to respond to DCA's inquiry.

The mediation process usually leads to a settlement.

If the business does not respond to DCA's inquiry, the mediator will investigate the status of the business and take appropriate steps.
---
If the business is licensed by DCA and it is necessary to hold an administrative hearing, the mediator will prepare the case and send you a letter to inform you that the case has been referred to DCA's Adjudication Division. When a hearing date is confirmed, you will receive a Notice of Hearing in the mail.
ADMINISTRATIVE HEARING
Hearings are held before Administrative Law Judges, who take testimony and other evidence from all parties. These judges are familiar with Consumer Affairs rules and regulations and are charged with being fair and unbiased.
At administrative hearings, each party is able to present its side of the story, and to cross-examine any opposing witness. The judge may also ask questions of each witness. Each hearing is recorded.
Administrative hearings can result in successful judgments, resulting in restitution. Restitution includes money returned to consumers, credits, and cancelled contracts.

Read DCA's Administrative Hearing Guide
Can't make hearing date? Request a DCA adjournment*
*Note: You will be redirected to a web page where you must register an account with the City of New York before you can submit request online.