Results are in! Find out what celebrity judges Michael Cecconi, Andrew Dornenburg, Gael Greene, and Karen Page selected as the best drinks for outdoor dining in the 4th Annual Sidewalk Café Drink Mix-Off.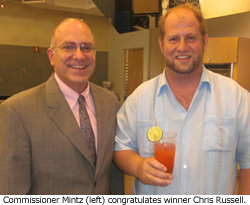 1460 Second Avenue
New York, NY 10021
Recipe
8 sprigs fresh mint
7 whole raspberries
½ oz freshly squeezed lime juice
½ oz agave nectar
¼ oz freshly squeezed orange juice
2 oz 901 tequila

Directions
Muddle mint, raspberries (reserve one for garnish), and agave nectar in mixing glass.
Add handful of ice, lime juice, tequila. Shake vigorously. Strain into martini glass and
top with orange juice. Garnish with wedge of lime and drop remaining raspberry
into glass.



34-01 30th Avenue, Astoria, New York 11103

Recipe
1.5 oz infused Metaxa brandy (brandy and vodka infused with dried figs)
1.5 oz vodka
3 oz white cranberry

Directions
Build in a mixing glass. Add Metaxa brandy, vodka, white cranberry. Shake with ice
and strain into a martini glass. Add infused fig as garnish.

Co-sponsored by DCA and the New York State Restaurant Association, the Sidewalk Café Drink Mix-Off, now in its fourth year, is an event to celebrate the City's booming outdoor dining industry. Special thanks to the Institute of Culinary Education for hosting the event.