CONSUMER AND BANKING OFFICIALS TEAM UP
TO LAUNCH "BANK ON NEW YORK" CAMPAIGN
FOR IMMEDIATE RELEASE
January 6, 2005

Contacts: Dina Improta, DCA, 212.487.4283 / Catie Marshall or Kori-Ann Taylor, Banking, 212.709.1691

Dozens of Financial Institutions to Participate in Effort to
Encourage Low-Income New Yorkers to Open Bank and Credit Union Accounts
New York City Department of Consumer Affairs (DCA) Commissioner Gretchen Dykstra and New York State Superintendent of Banks Diana L. Taylor, joined by dozens of banking representatives, today launched BANK ON NEW YORK - a new campaign to encourage New Yorkers to open basic bank accounts as a means toward financial independence and stability. For the month of January, more than 20 banks and credit unions throughout the City will use targeted advertising and consumer education in multiple languages to promote low or no-fee bank accounts, and distribute information about the Earned Income Tax Credit (EITC). Campaign advertisements will be placed in banks and credit unions, on bus shelters and in newspapers citywide in English, Spanish and Chinese.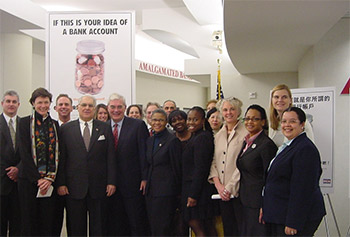 BANK ON NEW YORK aims to help the 800,000 New York City residents who don't use banks to open bank accounts that have minimal or no costs. This will allow them to use direct deposit, to save money on daily transactions, and give them the opportunity to use their tax refund to lay the groundwork for long-term financial independence. A number of bank and credit union representatives joined Commissioner Dykstra and Superintendent Taylor for the announcement at the new Amalgamated Bank branch in lower Manhattan.
'Bank on New York' is a tremendous opportunity to reach hundreds of thousands of New Yorkers who may not know that using a bank account is cheaper than using instant tax loans or money orders," said DCA Commissioner Gretchen Dykstra. "Together, with the Banking Department and the City's banking community, we also urge consumers, especially those filing for the EITC, to steer clear of high-priced schemes such as refund anticipation loans that most appeal to those relying on getting tax refunds quickly."
"New Yorkers who don't use banks or credit unions are paying far too much to access and use their money," said Superintendent of Banks Diana L. Taylor. "The Bank on New York campaign is designed to provide information to all about banks and the services they offer and to provide the impetus to unbanked New Yorkers to take the first steps toward real financial independence. For those who are eligible, the Earned Income Tax Credit refund can provide the perfect seed money for opening a basic banking account; a starting point for establishing good credit and saving toward a solid financial future. I applaud our participating banks for stepping forward to take part in this great new program."

Banks participating in BANK ON NEW YORK include: Amalgamated Bank, Amerasia Bank, Apple Bank, Astoria Federal Savings, Bank of America, Bank of China, BPD Bank, Bushwick Cooperative Federal Credit Union, Carver Federal Savings Bank, Cathay Bank, Chinatrust Bank, Citigroup, Commerce Bank, Country Bank, HSBC Bank USA, N.A., Independence Community Bank, Lower East Side People's Federal Credit Union, M & T Bank, Montauk Credit Union, National Federation of Community Development Credit Unions, New York City Financial Network Action Consortium (NYCfNAC), Ridgewood Savings Bank, Sterling National Bank, Union Settlement Federal Credit Union, Victory State Bank, and Woori America Bank.

New York State law requires all banks (including commercial banks, savings banks and credit unions) to offer consumers a low-fee bank account that meets specific basic criteria. Banks are permitted to impose certain conditions on opening and maintaining a basic - low-cost - banking account. No matter what name the bank gives to the type of account, anyone in New York State can have a basic banking account.

"We're thrilled to host the kick-off of such an important campaign," said Gabe Caprio, President & CEO of the Amalgamated Bank. "Founded by the Amalgamated Clothing Workers of America and now owned by UNITE HERE, Amalgamated Bank has been serving working people in New York for over 80 years. We are particularly proud to be part of this extraordinary effort to reach unbanked New Yorkers and are committed to continued participation in Bank On New York."
"The Bank On New York Program is the perfect match of a public initiative and private sector product. This collaborative effort will help to broaden the reach of banking services throughout many communities," said Michael P. Smith, President of The New York Bankers Association, which represents 26 banks in New York City and more than 100 banks statewide. "The New York Bankers Association, on behalf of its members, is pleased to support this worthwhile program."

"As a leading credit union serving thousands of low-to-moderate income New Yorkers, we recognize the importance of affordable banking services and are pleased to be a partner in the Bank On New York campaign," said Meagan van Harte, Director of Development Services for the Lower East Side Peoples Federal Credit Union. "The money saved by opening basic bank accounts and avoiding more expensive options, will help New Yorkers expand their financial opportunities."
DCA licenses more than 60,000 businesses in 55 different categories and enforces the Consumer Protection Law and other related laws at thousands of businesses throughout New York City. In addition, the DCA spearheads the New York City EITC Campaign with targeted and comprehensive effort on behalf of the City's private, non-profit, and government sectors to increase the number of EITC-eligible New Yorkers who file. To file a complaint or for copies of the Taxpayer Bill of Rights and DCA's Tax Preparation Services consumer guide, go online to the DCA website at www.nyc.gov/consumers or call 311.
The New York State Banking Department is the regulator for all state-chartered banking institutions, virtually all of the United States offices of international banking institutions, all of the State's mortgage brokers, mortgage bankers, check cashers and budget planners. The aggregate assets of the companies and institutions supervised by the Banking Department are over $1.3 trillion. In addition to regulating banking institutions, the Banking Department is active in informing and educating all New Yorkers on banking matters. To contact the Banking Department, please call 1-877-BANK-NYS or visit our website at www.banking.state.ny.us.