July 23, 2003
CITY SWEEPS PROBLEM FRUIT AND VEGETABLE STAND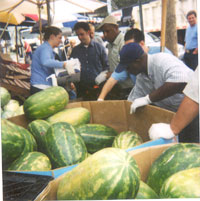 Inspectors from the New York City Department of Consumer Affairs led a sweep of a sidewalk stand located in the Marine Park section of Brooklyn. The team, comprised of DCA, Department of Sanitation and Department of Health inspectors, cleared 5,000 pounds of fruits and vegetables plus the illegal stands from the sidewalk.
The business Marine Park Farmers Market, located at 2961 Avenue has been the source of multiple complaints from area residents and leaders.
The confiscated fruits and vegetables will be distributed to food centers by City Harvest.
DCA enforces the consumer protection laws and other related laws at thousands of businesses throughout New York City. Fostering a marketplace where consumers are protected and businesses can thrive, DCA licenses more than 60,000 businesses in 55 different categories in New York City. Through free community seminars, licensing forums, and other informational materials, DCA educates consumers and businesses alike about their rights and responsibilities. To file a complaint or obtain more information, dial 311 or contact the DCA online at www.nyc.gov/consumers.