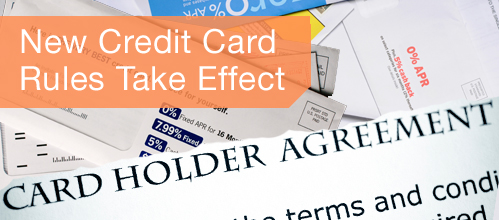 The Credit Card Accountability Responsibility and Disclosure Act of 2009 created important new protections for credit card users. The new law requires that credit card companies provide cardholders with clear and understandable forms and statements; establishes rules regarding rate increases; and provides special protections for students and young people.
Five Key Protections:
Credit card companies are limited in how they can change the terms of your agreement without your permission.


• If your credit card company wants to increase your rate, the increase will apply only to new purchases after the new rate takes effect. Your credit card company must notify you about the change 45 days before the new rate takes effect, and give you the option of closing your account and paying off your existing balance at your current interest rate.




• Your credit card company can change the rates on existing balances without notifying you only if:

you are more than 60 days late paying your credit card bill
you have a clearly advertised promotional rate that is expiring
you have a variable rate credit card
you failed to comply with the terms of a "workout" or "hardship" agreement you reached with the company



Your credit card company may ask you to "opt in" to coverage for purchases that go over your credit limit.
This means that your credit card company will authorize a purchase that will put you over your credit limit, but they will charge you a fee. Often, the credit card company will continue to charge fees as long as your credit card balance remains over the limit. If you don't "opt in" to this coverage, the credit card company is not allowed to charge you fees for allowing you to exceed your credit limit.


Your credit card company cannot charge you to make payments by telephone, electronically, or by mail. Your bill cannot be due on a weekend or holidays, and the cutoff time for on-time payments cannot be in the middle of the day.


Your credit card statement will include better information about how long it will take to pay off your debt and the consequences for late payments.


• Every statement will include a clear due date, the date on which your payment would be 60 days delinquent, and the penalty interest rate and fees that would apply for paying late.




• Your statement will also tell you how long it would take to pay off your balance if you only make minimum payments, and how much you would have to pay each month to pay off the balance in three years.




Attention: young adults. You must demonstrate you can repay your credit card debt before you get a credit card.


• A credit card company cannot issue a card to a person under the age of 21 unless he or she has an independent source of income or a cosigner.




• Individuals age 21 or younger should no longer receive pre-approved or pre-screened solicitations in the mail, and cannot be offered giveaways (like Frisbees or T-shirts) for opening a credit card account.
Additional Resources



Read DCA's Consumer Alert: New Protections for Credit Card Users (in PDF)


Read DCA's 8/08 comments regarding credit card and bank practices (in PDF)


Read DCA's 7/08 comments regarding credit card products (in PDF)


Visit the Federal Reserve Board Web site to learn more about the CARD Act