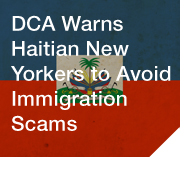 The Department of Homeland Security has given Haiti an 18-month designation of Temporary Protected Status (TPS). Undocumented Haitians who were living in the United States on or before January 12, 2010 may be eligible for TPS.
Think you're eligible for TPS?
DCA urges you to protect yourself from businesses that are not qualified to help you. To get correct information and good advice, speak only to a reputable attorney or nonprofit organization with attorneys on staff.
Note: The City, in partnership with City University of New York and community organizations, is providing safe, free TPS application clinics in February. Learn more about TPS application clinics
For information on free or low-cost immigration advice or help, call the New York Immigration Hotline at (800) 566-7636 or (212) 419-3737.
For an attorney referral, contact the New York City Bar Association at (212) 626-7373.
Get free forms for TPS and up-to-date information from U.S. Citizenship and Immigration Services (USCIS) in English French Kreyol
Tips
Get information from DCA on protecting yourself from immigration scams in
English Kreyol
Complaints
Call 311 to file a complaint with DCA about a business providing immigration services. 311 can take calls in many different languages. You do not have to give your name or your immigration status in order to make a complaint. Read about Mayor Bloomberg's Executive Order 41.
You can also file a complaint with DCA online or download the NYC law governing immigration service providers.
Call 311 or visit the New York State Unified Court System online to file a complaint about an attorney.